Sometime in the near future this type of article may be classified as a hate crime. K



Help Protect America's Children!

The Homosexual Movement And Pedophilia
The homosexual activist movement and organized pedophiles are linked together by a common goal:
To gain access to children
for seduction into homosexuality.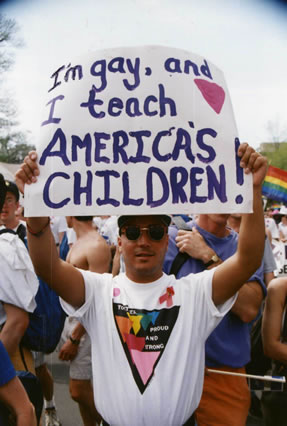 Homosexual activists deny that they target children for seduction into the homosexual lifestyle, but the evidence is overwhelming that this is a lie.
There is an ever-increasing effort among homosexual organizations to target public school children, to abolish age of consent laws, and to publish "studies" that purportedly show that adult/child sex is not harmful.
The following reports provide clear and convincing proof that homosexual pedophiles (called pederasts) want children. Homosexuals should not be given special federal protections under "hate crime" laws; they should not be free to promote homosexuality in public schools; nor should they be allowed to marry or adopt children. Many homosexuals are sexual predators who prey on children.
---
Want to take action
about what you have just read?

Then write a letter to your local newspapers, television stations and radio stations. Click on your state below.

Please note, this article will NOT be automatically inserted or referenced in your letter. You must copy and paste it or give them the web page URL yourself.
---
Download and distribute these reports to your state and federal legislators, community leaders, pastors, and associates: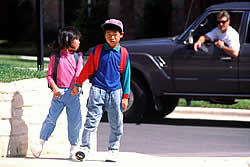 Exposed: Homosexual Child Molesters
http://traditionalvalues.org/urban/one.php
Exposed: Homosexual Urban Legend: NAMBLA And Homosexual Activism
http://traditionalvalues.org/urban/nine.php
Homosexuality and Child Sexual Abuse
http://traditionalvalues.org/urban/one-a.php
Child Molestation And The Homosexual Movement
http://www.regent.edu/acad/schlaw/lawreview/articles/14_2baldwin.PDF
Homosexuals Recruit Public School Children
http://www.traditionalvalues.org/pdf_files/TVCSpecialRptHomosexualRecruitChildren.PDF
Pedophiles/Sex Torturers Seek Normalization
http://traditionalvalues.org/pdf_files/PedsHomosexuals.pdf
Exposed: The Next Phase Of The Homosexual Movement
http://www.traditionalvalues.org/pdf_files/PublicSex.pdf
Sympathy For Child Sex Predators
http://www.traditionalvalues.org/pdf_files/pedophile_free_zones.pdf
Homosexuality And Pedophilia
http://us2000.org/cfmc/Pedophilia.pdf
Pedophilia Chic
http://www.weeklystandard.com/content/public/articles/000/000/001/333rtjrn.asp
Pedophilia Chic Part 2
http://www.weeklystandard.com/Content/Public/Articles/000/000/001/334juixf.asp
Pedophilia Chic Reconsidered
http://www.weeklystandard.com/Content/Public/Articles/000/000/001/329pdstm.asp
Pedophilia Chic Reconsidered Part 2
http://www.weeklystandard.com/Content/Public/Articles/000/000/001/330nanxg.asp
Homosexual Propagandists
Use Schools And Libraries To Normalize Homosexual Behaviors.
Homosexual publishing companies are churning out dozens of books targeted to kindergarteners, pre-teens, and teenagers to normalize homosexual behavior and to push for homosexual marriage and adoption.
Many of these books are designed to stigmatize opponents of homosexual behavior as bigoted and hateful and inaccurately portray "happy" homosexual families consisting of two men or two women and their children. All children in homosexual families come from broken homes or were conceived by artificial insemination. A homosexual household is by definition, abnormal, and children are at greater risk for molestation in these homes than in homes with a mother and father who care for their own biological children.
One of the most popular books distributed by homosexual activists to preteen and teenagers is Two Teenagers In Twenty, (formerly called One In Ten, and published by Alyson Publishers, Boston). It describes the sexual experiences of teenagers who engage in homosexual behaviors. One chapter of the book details the seduction of a teenage girl by her dance instructor on a field trip out of town.
Alyson Publishers is also the publisher of the out-of-print book, The Age Taboo—Gay Male Power, Sexuality, Power, and Consent, which includes essays on having sex with children and teenagers. One essay is written by North American Man-Boy Love Association founder David Thorstad!
The books listed below are from "twolives.com," a homosexual publishing company.
---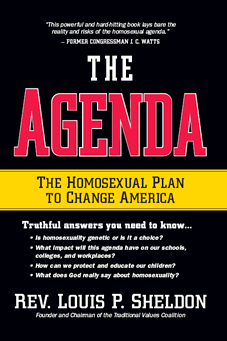 Get your copy of THE AGENDA by Rev. Louis P. Sheldon and purchase extra copies to give to your pastor, neighbors, friends, and associates.
This is one of the most important books to be written in the past 20 years—and it needs to be in the hands of millions of Americans.
THE AGENDA describes how homosexual activists plan on recruiting your children into the lifestyle; how they're undermining traditional marriage; and how they will eventually criminalize any public criticism of homosexual conduct. (It's already happening in Canada where the gay agenda is well advanced.)
Former Oklahoma Congressman J.C. Watts has said of THE AGENDA: "This powerful and hard-hitting book lays bare the reality and risks of the homosexual agenda."
Author Rev. Louis P. Sheldon has issued a call for all Christians to actively oppose the homosexual agenda: "The homosexual agenda is an attack on everything our Founding Fathers hoped to give us. But I am convinced that we can witness a tremendous victory, and with God's help, we shall overcome."
Purchase a copy for yourself and a half dozen or more to hand out to your associates! Help us get the truth out about the dangers facing our nation from THE GAY AGENDA.
Socrates was a Pederast Homosexual
---
Want to take action about what you have just read?
---
- Contribute to TVC

- TVC WEBSITE

- Get The Truth About GLSEN

- Homosexual Urban Legends, The Series...