May 25, 2008
The Hedonistic Pleasureseeker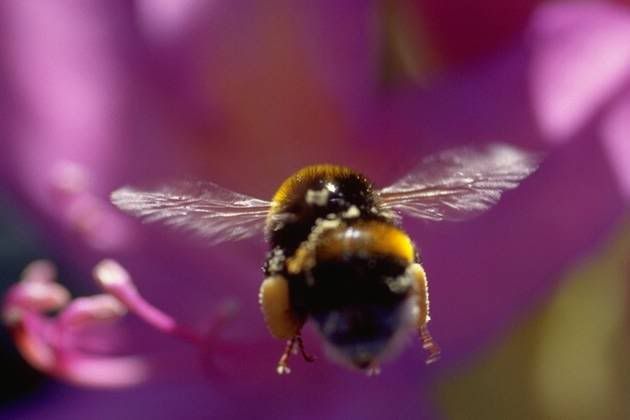 (Bombus pennsylvanicus)
I don't know about where you live but the bees just LOVE my yard! Is it because I've gone almost completely organic?
How to Create a Bee-Friendly Yard
Believe it or not, bees are picky. They play favorites in your neighborhood! To ensure your garden is the "bees knees" this summer plant as many of
these flowers
as you can afford and use only organic fertilizers and pesticides. Variety counts! See the
University of Berkley
for the details!
1. The most important feature of a bee-friendly garden is the array of flowers offered. Like us, bees are lazy and prefer to get their variety in the easiest ways possible. Make sure you have a lot of blue, yellow and purple flowers to attract their eyes, and spicy/sweet smells to attract their noses.
2. Bees prefer large swaths of flowers, where they can find plenty of food in one area. Try to have something in bloom all during the spring, summer, and early autumn.
3. A bee-friendly garden isn't neat and manicured. It may even have weeds, if those weeds are attractive to bees. It also has patches of bare soil, which many native bees need for making burrows.
4. Bees need water too! Because of their small size, they have trouble drinking from small ponds and bird baths, and can easily get caught in the water's surface tension. . Puddling areas, such as a ceramic dish filled with very wet sand, will attract both bees and butterflies.
5. Keep it local and classic. Showy hybrids seldom produce much pollen. Avoid flowers with "double" blooms. Use a maximum of native annual and perennial wildflowers which naturally grow in your region, because they evolved there and so often require less water, fertilizer and pesticides than showy exotics. Try cosmos, black-eyed Susans, lupines, and mints.
From Wild Acres:
Bee Attracting Plants

Plant Name
Bloom Time
Sun Exposure
Soil Type
Trees/Shrubs
Blueberry (Vaccinium spp.)
May - June
Full Sun, Partial Shade
Moist

Holly (Ilex spp.)

May - June
Full Sun, Partial Shade,
Full Shade
Dry, Moist
Lilacs (Syringa spp.)
May
Full Sun, Partial Shade
Moist, Dry
Sweet Mock Orange (Philadelphicus coronarius)
June
Full Sun, Partial Shade
Moist

Tulip Poplar
(Liriodendron tulipifera)

June - July

Full Sun

Moist

Willows (Salix spp.)

April

Full Sun

Moist

Wolfberry
(Symphoricarpos occidentalis)

June - July

Full Sun, Partial Shade,
Full Shade

Moist, Dry

Annuals

Asters (Aster spp.)

August - Oct
Full Sun
Moist, Dry

Borage (Borago officinalis)

June - Oct
Full Sun, Partial Shade
Moist

Dill (Anethum graveolens)

April - July
Full Sun
Moist, Dry

Salvia (Salvia splendenss)

June - Oct
Full Sun, Partial Shade
Moist

Winter Savory (Satureja montana)

July - Oct
Full Sun
Moist
Biennials/Perennials

Ajuga ( Ajuga spp.)

May - July
Partial Shade, Full Shade
Moist, Wet

Bee Balm (Monarda didyma)

July - September
Full Sun, Partial Shade,
Full Shade
Wet, Moist

Columbine (Aquilegia spp.)

April - July
Full Sun, Partial Shade
Moist

Common Milkweed
(Asclepias syriaca)

June - August
Full Sun, Partial Shade
Moist, Dry

Daffodil (Narcissus spp.)

March - April
Full Sun, Partial Shade
Moist

Foxglove (Digitalis purpurea)

May - Sept
Full Sun, Partial Shade,
Full Shade
Moist

Goldenrods (Solidago spp.)

July - Sept
Full Sun
Moist, Dry

Grape Hyacinth
(Muscari botryoides)

April - May
Full Sun
Moist

Hyssop (Hyssopus officinalis)

July - Oct
Full Sun
Dry

Joe Pye-Weed (Eupatorium maculatum)

July - Sept
Full Sun, Partial Shade
Wet, Moist

Lemon Balm (Melissa officinalis)

June - Oct
Full Sun, Partial Shade
Moist, Dry

Lovage (Levisticum officinale)

July - August
Full Sun, Partial Shade
Moist

Obedient Plant
(Physostegia virginiana)

June - Sept
Full Sun, Partial Shade
Moist, Dry

Peppermint (Mentha piperita)

July - Sept
Full Sun, Partial Shade
Moist, Dry

Strawberry (Fragonia spp.)

April - May
Full Sun, Partial Shade
Moist

Thyme, English (Thymus vulgaris)

May - June
Full Sun
Moist, Dry

Wild Marjoram
(Origanum vulgare)

July - Sept
Full Sun
Dry