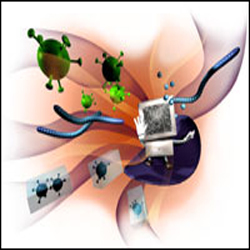 I was hit by a particularly hard to get rid of malware that was making posting a chore if not impossible. It seemed to be working through a form of google analytics that was redirecting searches and cutting off the connection. The malware did not come from clicking on an attachment but just from going to a nefarious website, which was seemingly a site of links. I immediately began getting registry change warnings within seconds of entering the site. The standard free apps that many of us use; Spybot, Ad-Aware, Avast, didn't work.
I finally found a forum that didn't get blocked and they suggested 'Malwarebytes' Anti-Malware'.
It seems to have worked. Plus it was free.
You can get it here
http://www.download.com/Malwarebytes-Anti-Malware/3000-8022_4-10804572.html?tag=mncol&cdlPid=10878968
If you ever have the same problems, hope this helps.
K