Thursday, August 07, 2008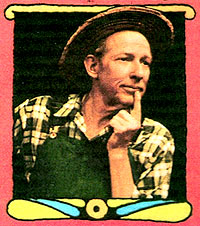 Is it reasonable to believe that a delusional Christian Zionist could be responsible for sending anthrax letters to congressmen and media figures to whip up more anti-Arab hysteria in a nation already hysterical over the 9/11 attacks? Clearly it was the intent of the anthrax sender to muster hatred for Muslims by sending his anthraxograms to these people. Gosh lets look at what Mr. Greenjeans/Ivins wrote in a letter to the editor in Frederick News Post.
Rabbi Morris Kosman is entirely correct in summarily rejecting the demands of the Frederick Imam for a "dialogue."
By blood and faith, Jews are God's chosen, and have no need for "dialogue" with any gentile. End of "dialogue."
Yup, this guy sure loves God's alleged chosen people. Sounds like he's type of guy that would love to set some Muslims up for a fall.
But here is a little hint for our law enforcement officials when it comes to crimes in which Arabs/Muslims appear to be implicated. Look for the Zionists. And not necessarily the Christain Zionists. These folks are nut cases alright, but are rarely dangerous, unless you are a doctor at an abortion clinic. Look for art students. Look for Mossad moving companies. Look for those pretty Israeli chicks hustling cosmetics mined from the Dead Sea in shopping malls(I must admit I've purchase alot of their products, but have yet to use one).
Perhaps someone should interview one of the members of the former Fort Detrick's Camel Club, for example. The Camel Club was a clique of individuals working at this government biological warfare facility to which the killer spores have been traced. The Clubs leader was none other than Lt. Col. Philip Zack, a Zionist, who with his fellow club members continuously hassled an Egyptian born scientist, Dr. Ayaad Asaad, at the facility in the early nineties, until Zack had to be reassigned for his antics.
Then it seems that some stuff was missing at the lab and there was an investigation. This led to the discovery that Zack had returned for some unscheduled late night work at the facility. A surveillance camera recorded Zack being let in at 8:40 p.m. on Jan. 23, 1992, apparently by Dr. Marian Rippy, a lab pathologist and close friend of Zack's, according to a report filed by a security guard. Rippy was also apparently a member of the Camel Club whose primary function was to hassle Dr. Assaad.
According to the
Hartford Courant
, another lab scientist, Dr. Mary Beth Downs, told investigators of this incident that... she had come to work several times in January and February of 1992 to find that someone had been in the lab at odd hours, clumsily using the sophisticated electron microscope to conduct some kind of off-the-books research. After one weekend in February, Downs discovered that someone had been in the lab using the microscope to take photos of slides, and apparently had forgotten to reset a feature on the microscope that imprints each photo with a label. After taking a few pictures of her own slides that morning, Downs was surprised to see "Antrax 005" emblazoned on her negatives. Downs also noted that an automatic counter on the camera, like an odometer on a car, had been rolled back to hide the fact that pictures had been taken over the weekend. She wrote of her findings in a memo to Langford, noting that whoever was using the microscope was "either in a big hurry or didn't know what they were doing."
Its not likely that the army ever got to the bottom of this. After all where would it have led?
Dr. Assad thought that was the end of his persecution by the Camel Club until the FBI contacted him in October of 2001. When the FBI contacted him, they told him someone had mailed an anonymous letter - a few days before the existence of anthrax-laced mail became known - naming Assaad as a potential bioterrorist. Fortunately for Assad the FBI decided the letter was a hoax. But the letter wasn't a hoax, it was part of a crime. It was sent days before anthrax was to be discovered. Does anyone have any ideas about who may have sent it? Dr. Assad thinks it was one of his former Fort Detrick colleagues. I bet I can guess who.
U.S.: Ivins solely responsible for anthrax attacks
Rep. Christopher Smith, R-N.J., speaks to The Associated Press in his office in his office on Capitol Hill in Washington, Wednesday, Aug. 6, 2008, to discuss his meeting with FBI investigators working on the 2001 anthrax attacks and the suicide of Army scientist Bruce Ivins.
Army scientist Bruce Ivins had in his lab highly purified anthrax spores that were linked to the 2001 attacks that killed five and access to the distinctive envelopes used to mail them, the government declared Wednesday, releasing a stack of documents to support a damning though circumstantial case.
Ivins, a brilliant but deeply troubled man who committed suicide last week, was the anthrax killer whose mailings rattled the nation in the worst bioterror case in U.S. history, just a month after the Sept. 11 terror attacks, federal prosecutors asserted. They were backed by court documents that were a combination of hard DNA evidence, suspicious behavior and, sometimes, outright speculation.
Ivins' attorney said the government was "taking a weird guy and convicting him of mass murder" without real evidence. Republican Sen. Charles Grassley of Iowa called for a congressional investigation.
Ivins had submitted false anthrax samples to the FBI to throw investigators off his trail and was unable to provide "an adequate explanation for his late laboratory work hours" around the time of the attacks, according to documents that officials made public to support their conclusions.
Investigators also said he sought to frame unnamed co-workers and had immunized himself against anthrax and yellow fever in early September 2001, several weeks before the first anthrax-laced envelope was received in the mail.
Ivins killed himself last week as investigators closed in, and U.S. Attorney Jeffrey Taylor said at a Justice Department news conference, "We regret that we will not have the opportunity to present evidence to the jury."
The scientist's attorney, Paul F. Kemp, heatedly dismissed that comment.
"They didn't talk about one thing that they got as result of all those searches," he said. "I just don't think he did it, and I don't think the evidence exists."
Taylor conceded the evidence was largely if not wholly circumstantial but insisted it would have been enough to convict.
The prosecutor's news conference capped a fast-paced series of events in which the government partially lifted its veil of secrecy in the investigation of the poisonings that followed closely after the airliner terror attacks of Sept. 11, 2001.
The newly released records depict Ivins as deeply troubled, increasingly so as he confronted the possibility of being charged.
"He said he was not going to face the death penalty, but instead had a plan to kill co-workers and other individuals who had wronged him," according to one affidavit. In e-mails to colleagues, Ivins described a feeling of dual personalities, the material said.
Officials disclosed Wednesday they had restricted his access to the biological agents last September.
Ivins had sole custody of highly purified anthrax spores with "certain genetic mutations identical" to the poison used in the attacks, according to an affidavit among a stack of documents the government released, all seemingly pointing to his guilt. Investigators also said they had traced back to his lab the type of envelopes used to send the deadly powder through the mails.
The FBI's investigation had dragged on for years, tarnishing the reputation of the agency in the process. Investigators had long focused on Steven J. Hatfill, whose career as a bioscientist was ruined after then-Attorney General John Ashcroft named him a "person of interest" in 2002. The government recently paid $6 million to settle a lawsuit by Hatfill, who worked in the same lab as Ivins.
Taylor said Wednesday that investigators concluded in 2005 that Hatfill couldn't have had access to a crucial flask of anthrax spores.
Authorities say that language Ivins used in an e-mail days before a second round of anthrax attacks was similar to the messages in anthrax-laced letters received soon after by Democratic Sens. Tom Daschle and Patrick Leahy.
In the e-mail, Ivins wrote that "Bin Laden terrorists for sure have anthrax and sarin gas" and have "just decreed death to all Jews and all Americans." The letters to Daschle and Leahy said: "WE HAVE THIS ANTHRAX . . . DEATH TO AMERICA . . . DEATH TO ISRAEL."
Wednesday's documents were released as FBI Director Robert Mueller met privately with families of the victims of the attacks to lay out the evidence officials said the agency was preparing to close the case.
Patrick O'Donnell, a postal sorter who was sickened after handling one of the contaminated letters, said after attending Tuesday's briefing that he believes Ivins is the man who poisoned him. At the same time, the government didn't provide all the answers.
"I don't know what to think, man," O'Donnell said. "It's closing a lot of things, but it's also opening up a lot of doors."
As for motive, investigators seemed to offer two possible reasons for the attacks: that the brilliant scientist wanted to bolster support for a vaccine he helped create and that the anti-abortion Catholic targeted two pro-choice Catholic lawmakers.
"We are confident that Dr. Ivins was the only person responsible for these attacks," Taylor told a news conference at the Justice Department.
Noting that Ivins would have been entitled to a presumption of innocence, Taylor nevertheless said prosecutors were confident "we could prove his guilt to a jury beyond a reasonable doubt."
The events in Washington unfolded as a memorial service was held for Ivins at Fort Detrick, the secret government installation in Frederick, Md., where he worked. Reporters were barred.
More than 200 pages of documents were made public by the FBI, virtually all of them describing the government's attempts to link Ivins to the crimes.
That's not enough, said Grassley, the Iowa senator. He said there should be hearings rather than "the selective release of a few documents."
"This has been one of the largest domestic terrorism investigations in the FBI's 100-year history, and the investigative team made mistakes, missteps and false accusations," he said.
The government material describes at length painstaking scientific efforts to trace the source of the anthrax that was used in the attacks.
It says that in his lab, Ivins had custody of a flask of anthrax termed "the genetic parent" to the powder involved - a source that investigators say was used to grow spores for the attacks on "at least two separate occasions."
Anthrax culled from the letters was quickly discovered to be the so-called Ames strain of bacteria, but with genetic mutations that made it distinct. Scientists developed more sophisticated tests for four of those mutations, and concluded that all the samples that matched came from a single batch, code-named RMR-1029, stored at Fort Detrick.
Ivins "has been the sole custodian of RMR-1029 since it was first grown in 1997," said one affidavit.
Powder from anthrax-laden letters sent to the New York Post and Tom Brokaw of NBC contained a bacterial contaminant not found in the anthrax-containing envelopes mailed to Leahy or Daschle, the affidavit said.
Investigators concluded that "the contaminant must have been introduced during the production of the Post and Brokaw spores," the affidavit said.
The documents disclosed that authorities searched Ivins' home on Nov. 2, 2007, taking 22 swabs of vacuum filters and radiators and seizing dozens of items. Among them were video cassettes, family photos, information about guns and a copy of "The Plague" by Albert Camus.
Ivins' cars and his safe deposit box also were searched as investigators closed in on the respected government scientist who had been troubled by mental health problems for years.
According to an affidavit filed by Charles B. Wickersham, a postal inspector, the scientist told an unnamed co-worker "that he had 'incredible paranoid, delusional thoughts at times' and 'feared that he might not be able to control his behavior.'"
A mental health worker who was involved in treating Ivins disclosed last week that she was so concerned about his behavior that she recently sought a court order to keep him away from her.
One FBI document said Ivins "repeatedly named other researchers as possible mailers and claimed that the anthrax used in the attacks resembled that of another researcher" at the same facility.
The name of the other researcher was not disclosed.
The documents painted a picture of Ivins seeking to mislead investigators beginning in 2002, when he allegedly submitted the wrong samples to FBI investigators.
It wasn't until more than two years later, in March 2005, that he was confronted with the alleged switch, according to U.S. Postal Inspector Thomas Dellafera, who added that Ivins insisted he had not sought to deceive.
The victims of the attacks had little in common.
Robert Stevens, 63, a photo editor at the Sun, a supermarket tabloid published in Boca Raton, Fla., was the first to die. Thomas Morris Jr. 55, and Joseph Curseen, 47, worked at a Washington-area postal facility that was a hub for sorting the capital's mail. Kathy Nguyen, 61, who had emigrated from Vietnam and lived in the Bronx, worked in a stock room at Manhattan Eye Ear & Throat Hospital. Ottilie Lundgren, 94, who lived in Oxford, Conn., was the last to die.
*****************************************
Mike Rivero on the so called "suicide" of Bruce E. Ivins
http://www.youtube.com/watch?v=uAYMd3RjFBk
Thanks for this link to
http://curtmaynardsblog.blogspot.com/
****************************************************************
xymphora
Thursday, August 07, 2008
Meta-thrax
The police seem to investigate with blinders on. We often see cases where an innocent man is finally released for a crime he didn't commit, with an obvious suspect living down the street who the police didn't even look at. Part of the problem is psychological: police become invested in 'their perp', and are unable to see anyone else as even a possibility.
There is also a serious tactical reason for police blinders. Paying too much attention to too many possible suspects raises the distinct possibility that a defense lawyer will raise the issue. After all, if the police themselves weren't convinced that the defendant committed the crime, a fact finder should be able to draw reasonable doubt as to the defendant's guilt. While quiet
sub rosa
investigations are possible, any obvious investigation of an alternative suspect is discouraged.
Of course, the FBI had its perp in Hatfill. The parallel investigation of Ivins was not only no secret, it appears to have been known by almost everybody who knew Ivins. In fact, the publicity of the investigation was part of the harassment of Ivins. Each of Hatfill and Ivins could have used the investigation of the other as part of a very good defense. This makes no sense from the point of view of obtaining a conviction, if that was in fact the FBI's intent.
Of course, the FBI wasn't trying to obtain a conviction. The released evidence against Ivins, advertised as conclusive, would never have resulted in a conviction (lots of problems listed
here
; e.g., why would an expert on anthrax strains not notice that the strain he used might be traced back to him?; see the whole
site
), and the evidence against Hatfill was so weak it was a joke. The entire point of the investigation, including the parallel public investigations of Hatfill and Ivins which looked more like persecutions than prosecutions, was to so muddy the waters that any investigation would prove to be impossible. The FBI wasn't trying to investigate the anthrax attacks, it was trying to cover them up.
Why? As
posted
here before, the attacks were directed at Democrats who were having doubts about the Patriot Act, just when the Patriot Act was being debated (it worked so well they tried it
again
). Immediately after the attacks, the rare spine of the Democrats disappeared, and the Act passed, thus formalizing Bibi Netanyahu's Islamophobic 'war on terror' into the American legal system. It has also been
noted
that other subjects of the attacks may well have been those media people who particularly angered Bush/Cheney at the time (with the broadening of the attack intended to make the directed attack on Democratic legislators less obvious). Of course, as part of the same neocon package, the attacks were later used as part of the lie campaign to convince Americans it was necessary for the United States to make its disastrous attack on Iraq.
Employees of an American government agency, under orders from on high, waged a lethal terrorist bio-warfare attack on American citizens with the intent of scaring law-makers into passing a fascistic anti-Constitutional series of laws against the liberty of the American people, eventually lied about their own attack to trick Americans into a multi-trillion dollar debacle of a war, and the whole thing is covered up by the main American federal police unit. It is not a pretty picture.
It gets worse (and perhaps a bit better). After
harassing
Ivins almost to the point of insanity, they
force
him into a mental institution, manipulate
someone
they have a hold on into branding him as a psychopathic killer (and spread even more
bizarre
stories), and then, either 'suicide' him or harass him to the point where suicide was his only option. One psycho perp, conveniently dead, case closed. Americans who went along with the Patriot Act as it would only cover the swarthy should reflect on what has been done to a white, middle-class American, a loyal government employee for decades, decorated for his exceptional service to the safety of the American people, whose only crime was to be in a position to be used as a patsy to protect the guilty.
The only good in this comes out of the internet. For years, Americans have been fed Official Stories by the disgusting American media. The Stories are always presented as facts, with no possible alternative. You might feel uneasy about these Stories, but you were always alone. The only chance you had to complain was in letters to the editor, which of course would never be published unless they reflected the Official Story. The internet allowed a community of individuals to immediately call shenanigans on the FBI's increasingly addled lies. While the FBI has achieved its desired cover-up, its reputation has been irrevocably damaged, as has the ability of the disgusting American media to peddle obvious crock-of-shit Official Stories as news.
Source:
http://xymphora.blogspot.com/