September 22, 2008, 12:00 a.m.
By Paul Singer, Jennifer Yachnin and Casey Hynes
Roll Call Staff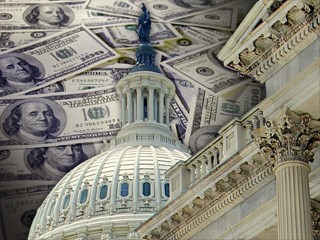 ---
Everything that you are about to read might be wrong.
Roll Call's annual attempt to rank the riches of Members of Congress is hampered by one fundamental flaw: It is based on the lawmakers' financial disclosure forms, which are extraordinarily unreliable sources of information.
The disclosure rules allow Members to report assets in broad categories, so there is no way to tell the difference between a $20 million investment and a $5 million investment. The top category on the Members' forms is "over $50 million," so it is impossible to accurately account for anything worth more than that — like a professional sports team, for example. There is also a gaping loophole for assets owned by the Members' spouse or dependent children; anything worth more than $1 million in value can be reported as "over $1 million." There is no way to tell whether that is $1.2 million or $1.2 billion.
The rules also don't require reporting things of value that are not used to produce income — most notably any primary residence or other home that is not used for rentals. That loophole removes from most Members' portfolios hundreds of thousands of dollars and in come cases millions of dollars worth of assets. Airplanes, fancy cars, antiques or other valuable items are not reported.
In filing a detailed disclosure form on behalf of Sen. Bob Corker (R-Tenn.), his accountants added this editorial note, which sums up the problem: The form is meant to comply with Senate disclosure rules but "is not intended to be a complete presentation of Senator Corker's financial position."
Beyond all of these flaws, there remains the fact that many, many financial disclosure forms filed by Members of Congress are simply inaccurate. A check mark placed in the wrong box can inflate or deflate a Member's apparent net worth by millions of dollars, and misunderstandings of the rules have led Members to understate some assets, overstate others and claim additional assets they no longer own.
Where the errors are obvious or have created noticeable discrepancies from prior-year filings, Roll Call has attempted to contact the offices to get a proper understanding of the actual value of the asset or assets in question.
What remains below is a ranking of the 50 wealthiest Members of Congress based on the minimum net worth reported on their financial disclosure forms. To achieve these numbers, Roll Call totaled the assets listed on financial disclosure forms filed in 2008 (covering calendar year 2007) using the lowest number in the ranges in which Members are required to report. An asset from $500,000 to $1 million is counted as being worth $500,000, unless the Member has provided a brokerage statement or other documentation that offers more specific detail.
Liabilities, which are also reported in ranges, are calculated based on the minimum value, and are subtracted from total minimum assets to establish total net worth.
Assets that are not included on the forms but have values that have been established by Roll Call or other publications are not included for the purposes of assembling this ranking, because the Members are not required to report these numbers. This ranking is based only on what is reported on the annual disclosure forms.
1. Sen. John Kerry (D-Mass.)
$230.98 million
The Massachusetts Senator claims the mantel of richest Member in the 110th Congress. Kerry's actual holdings, however — including those of wife Teresa Heinz Kerry, widow to ketchup heir Sen. John Heinz (R-Pa.) — are likely much greater.
In an April 2008 article, Forbes.com estimated Heinz Kerry's net worth at $1 billion.
Kerry's disclosure forms list the value of more than 180 assets — including Heinz family trusts and investment funds — only as "over $1 million," rather than the more specific ranges including $1 million to $5 million. Senators are allowed to list assets in the "over $1 million" category only if the items are held independently by a spouse or dependent child.
2. Rep. Jane Harman (D-Calif.)
$225.96 million
The wealthy Californian, who remains heavily invested in Harman International Industries, has seen her wealth increase nearly $10 million since filing her 2006 report.
Harman's report lists three accounts, including one held solely by her husband, totaling a combined minimum of $125 million in stock and options in the company. Harman's spouse founded the company, which manufactures electronics under the brand names AKG Acoustics, Harman Kardon, Infinity and JBL, among others.
In addition, Harman, who has no outstanding debts, lists a trust fund worth $1.8 million and an additional $2 million in multiple hedge fund accounts.
3. Rep. Darrell Issa (R-Calif.)
$160.62 million
The Golden State lawmaker added $2 million to his bottom line in 2007, increasing his fortune by a little more than 1 percent.
Issa, founder of the Vista, Calif.-based Directed Electronics, which manufactures car alarms, claims an investment worth at least $50 million in DEI and $25 million to $50 million in Greene Properties Inc. Both corporations own and operate office and industrial properties in California.
His portfolio also comprises numerous investment funds, including a dozen valued at a minimum of $5 million each.
4. Sen. Jay Rockefeller (D-W.Va.)
$80.40 million
A descendant of oil tycoon John D. Rockefeller, the West Virginian's vast assets remained stable in 2007, as his net worth increased by a little more than 1 percent.
Rockefeller's fortunes are stored primarily in three blind trusts with JPMorgan Chase & Co., Wachovia Corp. and United National Bank, valued at more than $50 million, $25 million to $50 million, and $5 million to $25 million, respectively.
Another family trust is listed at simply "over $1 million."
The Senator lists at least $5.5 million in debt on two loans, down from $6.5 million in 2006, when he listed an additional $1 million loan from United National Bank in Charleston, W.Va.

Read the rest: http://www.rollcall.com/features/Guide-to-Congress_2008/guide/28506-1.html?type=printer_friendly

Post by way of: http://www.strike-the-root.com/