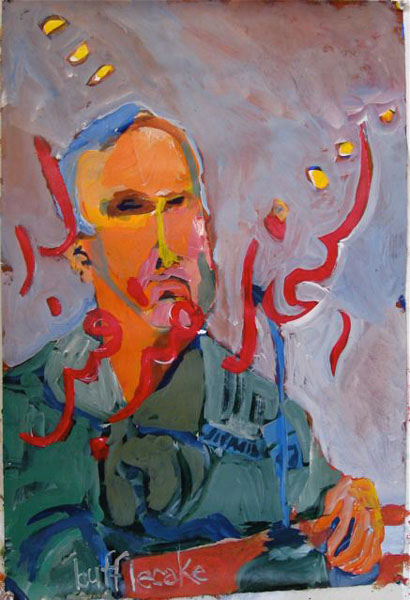 Painting by
Hank Brusselback
Ramsey County charges nonviolent Food Not Bombs volunteers under Minnesota version of USAPATRIOT Act, alleges acts of terrorism
In what appears to be the first use of criminal charges under the 2002 Minnesota version of the federal USAPATRIOT Act, Ramsey County prosecutors have formally charged eight alleged leaders of the RNC Welcoming Committee with conspiracy to riot in furtherance of terrorism.
Monica Bicking, Eryn Trimmer, Luce Guillen Givins, Erik Oseland, Nathanael Secor, Robert Czernik, Garrett Fitzgerald, and Max Spector, face up to 7½ years in prison under the terrorism enhancement charge which allows for a 50 percent increase in the maximum penalty.
Affidavits released by law enforcement, which were filed in support of the search warrants used in raids over the weekend and used to support probable cause for the arrest warrants, are based on paid, confidential informants who infiltrated the RNCWC on behalf of law enforcement. They allege that members of the group sought to kidnap delegates to the RNC, assault police officers with firebombs and explosives, and sabotage airports in St. Paul. Evidence released to date does not corroborate these allegations with physical evidence or provide any other evidence for these allegations than the claims of the informants.
"These charges are an effort to equate publicly stated plans to blockade traffic and disrupt the RNC as being the same as acts of terrorism. This both trivializes real violence and attempts to place the stated political views of the defendants on trial," said Bruce Nestor, president of the Minnesota Chapter of the National Lawyers Guild. "The charges represent an abuse of the criminal justice system and seek to intimidate any person organizing large scale public demonstrations potentially involving civil disobedience," he said.
Five Food Not Bombs volunteers were arrested in Minneapolis in early morning raids on Saturday, August 30, and are facing charges of conspiracy to riot, conspiracy to commit civil disorder and conspiracy to damage property.
The five, who are being held in the Hennepin County Jail, are Nathanael Secor, Garrett Fitzgerald, Eryn Trimmer, Monica Bicking, and Erik Oseland.
Officers from the Minneapolis Police Department, the Hennepin and Ramsey County Sheriffs' departments and the Federal Bureau of Investigation, armed with search warrants, executed the raids. The FBI and county sheriffs' departments held the cooks face down at gunpoint for several hours as they videotaped and photographed their cooking equipment and other belongings. Later that evening Monica Bicking, owner of the Food Not Bombs house at 2301 23rd Ave. South in Minneapolis, was interrogated in her cell by Ramsey County Sheriff Bob Fletcher. She refused to talk. Eryn Trimmer reported yesterday morning in a phone call to his mother that 50 new prisoners joined him in the county jail last night. Monica Bicking was released yesterday.
The FBI claims that Food Not Bombs had weapons stored at their homes are false. Fortunately, the FBI and Ramsey county sheriff's department did clean out all the old belongings left behind in the garage by the past owners saving Food Not Bombs a great deal of work. Volunteers held at gunpoint reported that "we aren't even painting banners here. All we have is food and cooking equipment."
The FBI, Pentagon and other agencies have been investigating and disrupting the Food Not Bombs movement since at least 1988 when volunteers were first arrested for feeding the hungry. That same year, the San Francisco Police wiretapped my (Food Not Bombs co-founder Keith McHenry) home phone. By 1997, the San Francisco police had made over 1,000 arrests for sharing vegetarian meals. I faced 25 years to life in prison even though I have written many articles and a book on nonviolent social change and have never participated in any violence and promote vegan and vegetarian diets, animal rights and peace.
This past year Eric McDavid and Lauren Weiner were framed by the Sacramento California office of the FBI after they paid a college student $75,000 to join Food Not Bombs. Wren is starting a five-year prison sentence and Eric has been sentenced to 19 years. The FBI provided their informant "Anna" with a specially wired car and home. They also gave her blasting caps, a book on how to build bombs and instructed her to try and convince Eric and Wren to bomb a dam in California. Eric and Wren refused but because they failed to stop "Anna" talking about her plans they were convicted.
"This investigation pertains to actions of the RNC Welcoming Committee," Ramsey County Sheriff Bob Fletcher said in a statement at midday Saturday. "The 'Welcoming Committee' is a criminal enterprise made up of 35 anarchists who are intent on committing criminal acts before and during the Republican National Convention.
Food Not Bombs has spent the last year organizing to provide free meals to protesters attending the demonstrations outside the Republican National Convention in Minnesota and the Democratic National Convention in Colorado in the United States.
Food Not Bombs is an all volunteer movement dedicated to nonviolent social change. Food Not Bombs provides free vegetarian meals every week in over 1,000 cities all over the world. Food Not Bombs volunteers provided free meals to the rescue workers at the World Trade Center after 9/11, to the protesters at the Orange Revolution in Kiev, Ukraine and fed survivors in nearly 20 communities in the Gulf region of the United States in the months after Katrina. From Iceland to Chile, Nigeria, New Zealand, Israel and beyond thousands of Food Not Bombs volunteers will be sharing vegetarian meals, working for peace, planting gardens, fixing up bikes for poor children and responding to hurricanes and earthquakes.
Please forward this to your local media and community groups.
Post by way of: http://therearenosunglasses.wordpress.com/

**************************************************************
On the RNC, Monica Bicking, Eryn Trimmer, and Protest
Ian Bickling
Saturday morning my sister, Monica Bicking, and her boyfriend, Eryn Trimmer, were arrested in Minneapolis. Monica was released on Sunday, but Eryn and others are still in custody, and the police will try to keep them detained as long as possible. update: Monica has been taken back into custody, the two of them and six others from the Welcoming Committee are charged with felonies, including "furtherance of terrorism".
They were arrested for "conspiracy to incite a riot". This is the same charge used against the Chicago 8 (or 7) at the 1968 Democratic Convention. Perhaps the police have a sense of tradition?
But more directly she and Eryn were arrested in an attempt to preemptively suppress the protests at the Republican National Convention. They were both very active with the RNC Welcoming Committee, which is a group coordinating and supporting some of the people coming to the Twin Cities for the convention.
Obviously I'm very concerned by the arrests and charges. But there's been a huge outpouring of support from the community — both from activist in the Twin Cities, and from their neighbors. In Chicago I'm a little unsure about what to do.
Reading articles about the incidents (Glenn Greenwald's post on Salon is a good one) I find myself mostly avoiding the comment sections. The comments fall into two categories: mean comments against the protesters, and reactionary comments with no real substance ("this is proof this country is a police state!") Activists generally understand what's going on, and people of a right-wing/authoritarian bend are hardly going to be convinced of anything, but there's a lot of progressive people out there who've never really been involved in any activism like this. There's very little explaining the protests, the role of activists like my sister, and the philosophies they hold. Certainly the news makes no attempt, and unfortunately the activists themselves often speak from an unexplained perspective.
So I'd like to use this as an opportunity to explain my understanding of the role of protest, what's going on at the RNC specifically, and what an "anarchist" really is. At the moment I can't do a lot to help Eryn and Monica directly, but at least I can talk about her personally instead of another story about a named but otherwise anonymous "protester".
Monica and Eryn
I'd like to speak specifically of Monica and Eryn. Talking to Monica about the RNC protests, she was never actually that excited. The RNC isn't what she wanted to focus on. Why focus on the thing you dislike? Why focus on a political process you don't believe in? Why focus on the workings of institutions you wish didn't exist? She would have preferred to work on the scale she felt was valid — to build a community of individuals. But of course events are larger than us, and by whatever coincidence the RNC was coming to the Twin Cities. This is not the sort of thing you can just ignore. And of course it wasn't up to her whether there would be protests.
Monica and Eryn are competent and diligent, so of course they would become important to the organizing process. It seems that there were infiltrators in many of the organizations, so it's unsurprising that the police knew who to find when they were getting ready to suppress the protests. The two of them had expected informants from early on. Monica herself worked for a year for the American Friends Service Committee (a Quaker charity and peace advocacy organization) at a time when they were being spied on because of purported fears of violent protest. If you are not aware of Quakerism, it is a quite strictly passivist faith, and the pretense for the spying was exceptionally absurd. So Monica was not particularly shocked that there would be spying in the lead up to the RNC.
The RNC Welcoming Committee is itself a coordinating organization. It was inevitable that many, many groups would want to protest at the RNC. There's no lack of people who are angry. The Welcoming Committee served as a local resource for all those people — so visitors could find a place to stay in the city, so people could coordinate with each other, so people could perform their chosen form of protest in as well-informed a manner as possible. That it is being painted as an organization with criminal intent is a complete misrepresentation; the Welcoming Committee specifically has no intention of direct action.
The preemptive arrest was surprising to everyone. It is normal in the course of civil disobedience that some people expect to be arrested. Civil disobedience is confrontational. You have to go into it knowing that there will be certain consequences. Those are the consequences of the confrontation. They are not the consequences of the possibility of future confrontation. As organizers I know Monica and Eryn weren't planning on being arrested.
But I haven't written this essay in anger over their arrest. Protest is conflict. The lines of conflict move, and I find this move to preemptive arrest quite troubling, but I'm also optimistic that they won't ultimately be charged with anything. I also don't want to slip into the protest-to-protest mode, more obsessed with the form of protest than the function of this protest. This is a frustrating turn of events, and I'm sure no one is more frustrated than the two of them — one sequestered in a jail, the other in legal limbo, at the culmination of all their work over the last year. But I didn't write this essay out of anger but because I wanted to recognize what they've been doing and do my best to explain it to other people, because I'm proud of them. They are exactly the model of an engaged, ethically driven citizenry.
I see lots of comments like "this country is a fascist state!" and "this is just like Nazi Germany!" But of course this country is not those things. That's what happens when the citizenry of a country stands down, when they look away from what's happening right in front of them, when they ignore justice and discard empathy. This country is not those things because of Monica and Eryn and the thousands of people who will be present and paying attention when the RNC lands from on high.
Source: http://blog.ianbicking.org/2008/09/02/on-the-rnc-monica-bicking-eryn-trimmer-and-protest/