After 12 terms as Tennessee's 6th district representative in Congress, it's time for a forced retirement for
Bart Gordon
. He does not represent the interests of his constituents. The final straw for all of the voters should be his 'yes' vote for the bailout. Despite overwhelming opposition from the people, he chose to follow his handlers, the majority of the Democrat party and the rest of the thieves and liars he is influenced by.
Unseating Bart is unlikely.
He has the money. Notice most of it is from PAC's.
Candidate Name
Barton Jennings Gordon
Contributions Received
(click on $ amounts for details)

$1,264,951
Total Money Receipts
$185,960
From Individuals
(Amounts over $200)
$791,551
From Political Action Committees
$0
From Indian Tribes
$0
Self-Funded
He has no visible opponents.
Supposedly one or both of these names will be on the ballot; Steven L. Edmondson (R/WI) and
Chris Baker
(I). The only thing I can find about these 'challengers' is that they both have the same amount of money to spend,
$0
.
Vote against Gordon anyway. It will send a message to him and perhaps give encouragement for someone else to run in 2010.
I will have to say that Gordon has some pretty good spin writers. Below is the letter I received yesterday as a response to a phone call urging him to vote no against the criminal bailout. I called late last Thursday to his office. This was the quickest response I have ever gotten from him. I guess the form letter was ready to send even before the vote.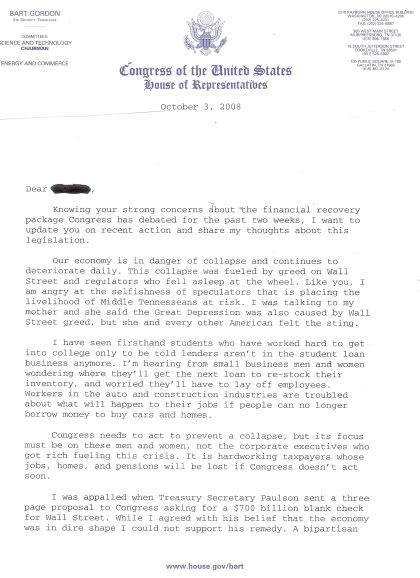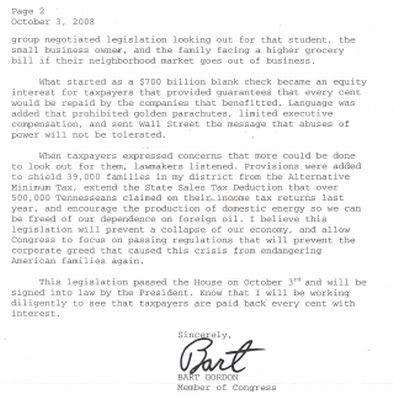 Congress.org
, by request, will send an email with all the recent congressional votes for the Senators and representative of your district. It's a good way to keep up on what the liars and criminals are doing.