Rahm Emanuel and David Axelrod
stand behind Obama the way that Trotsky stood behind Lenin and Kaganovich stood behind Stalin.
Is David Axelrod Jewish?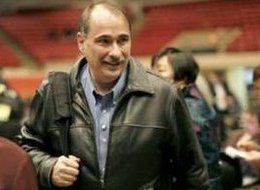 Yes, David Axelrod who will be President-Elect Barack Obama's Senior Adviser in the White House, is a Jew.

He grew up in a middle-class Jewish household in New York's Stuyvesant Town neighborhood. Axelrod showed a passion for politics at age 13 when he sold campaign buttons for Robert F. Kennedy. Axelrod attended Stuyvesant High School in Manhattan and the University of Chicago.

White House Chief of Staff Rahm Emanuel, who is also Jewish, is one of Axelrod's closest friends. Axelrod signed the ketubah (Jewish marriage contract) at Emanuel's wedding, an honor usually reserved for a close personal friend (TNR: The Plank).
With his moustache and comb-over, David Axelrod is a man once described by the paper where he once worked, the Chicago Tribune, as an "exotic rodent" and in The Times as an "advertising guy" who "perfected the craft of encapsulating an entire life in 30 seconds".
The former journalist, avid sports fan and political consultant met the President-elect on the urging of Bettylu Saltzman, a Democratic activist in Chicago, when Senator Obama was a young lawyer leading a voter-registration drive during Bill Clinton's first campaign, The New York Times said.
"Although he is as tough as they come, he's actually not a mercenary," Senator Obama told The New York Times.
"He actually believes in what we're doing, which actually makes him a bad consultant when he doesn't believe in the candidate. And he's a great consultant when he believes."
Mr Axelrod was quoted by
The Washington Post
as saying: "I thought that if I could help Barack Obama get to Washington, then I would have accomplished something great in my life."
**************************************************************
wikipedia
entry
**************************************************************
Obama: by his friends you shall know him
Obama's campaign manager was David Axelrod, an American Jew from Manhattan, who will be rewarded with the post of Chief White House advisor.
Early on in his campaign, Barack Obama gave a speech to the American Israel Public Affairs Committee (AIPAC) indicating his unwavering support for Israel. His selection of staff and advisers confirms that he is not going back on his word.
So colour really doesn't matter all that much. Those who hope that the Bush administration's unconditional support for Israeli aggression might change with Obama will be in for a nasty surprise. Of course, McCain wouldn't have been any different. And just for the record: Given that only about three percent of the American population are Jewish, their heavy concentration in the corridors of power is, of course, purely coincidental!
************************************************************
Obama's groomers
Through Project Vote, a voter registration drive that Obama worked on in 1992, he met two key future supporters, both Jewish. One was David Axelrod, a former Chicago Tribune reporter and chief consultant to Chicago mayors Harold Washington and Richard M. Daley who has been Obama's chief strategist since 2002.
**********************************************************
David Axelrod, on MSNBC
Posted on
30 June 2008
by nathancontramundi
"We need a smart, new, tough policy to go after the terrorists [in Pakistan] that [sic] attacked us." Presumably, such policy would involve disrespecting the sovereignty of yet another nation-state.
Change, huh? I hope not.
**********************************************************
Axelrod on Obama's Foreign Policy
July 2008
repeating the dead bin laden rhetoric
********************************************************
The King Maker (Axelrod's Obama)