Some Speculation
*****

Signed, Sealed, Delivered, I'm Yours: Jane Harman and the Israel Lobby

Harman
Philip Weiss
When last I saw Nancy Pelosi and Haim Saban, they were at the AIPAC conference in June. Pelosi was dangling the dogtags of Israeli soldiers taken hostage by hostile forces. Weirded me out: I wondered if she dangles American dogtags? While Saban, truly a glorious presence in a platinum tie, was showing off his multicultural display of the young American-Israel army, his Saban fellows, and telling his amazing personal story of going from Cairo to Israel and on to buy Power Rangers in Japan...
Well: here Pelosi and Saban are again. In a Time magazine piece two years ago suggesting that California Congresswoman Jane Harman, who is Jewish, was illegally using AIPAC muscle to lobby her own party boss, Pelosi, to make sure she got appointed the top Dem on the House Intelligence Committee.Harman's bio says she's the ranking Dem.
I bring all this up because Harman is being spoken of for the director of the CIA under Obama. Do you think AIPAC muscle has anything to do with such rumors? Key excerpt from the Time piece:
Saban has donated at least $3,000 to Harman's campaign, according to Federal Election Commission records, and the Saban Center for Middle East Policy, which he sponsors at the prestigious Brookings Institution, boasts Harman among its biggest fans. "When the Saban Center talks, I listen," Harman said at a Saban Center briefing in February on U.S. strategy in Iraq. Harman quipped that, in order to attend the session at Brookings, she had to "blow off" a senior intelligence official's appearance before a House committee.

What would Harman blow off for Saban at CIA?
P.S. The Time Magazine piece touched on the famous AIPAC spying case that drags on and on, going nowhere, for a reason. Writes a friend: "Well the AIPAC spy case was in court again on October 18th but nothing in the media about it. Truly frightening. While trying to find any news of it I did find this October 25th radio discussion with Grant Smith, [author of the great new book on the birth of AIPAC, America's Defense Line] involving the case, and the usual contextual suspects, especially, in light of Obama's new role as POTUS, Dennis Ross ("Israel's lawyer"), who is an Obama consultant on foreign policy..."
Source: http://www.philipweiss.org/mondoweiss/2008/11/signed-sealed-delivered-im-yours-jane-harman-and-the-israel-lobby.html#more
*******************************************************
D. H. Williams
Who is Rahm Emanuel? As many Americans celebrate the historic victory of Barack Obama this evening most will be completely unaware of the central figures in his administration who will direct and implement major policies and legislation changing the lives of every citizen. While the average voter may not give a moments thought to who the members of an Obama administration will be the Obama team has already selected candidates to fill those positions. According to a well placed Democratic aid Barack Obama personally selected Rahm Emanuel to be his Chief of Staff. A key figure from Obama's hometown of Chicago will be Congressman Rahm Emanuel (D-IL) fourth ranking Democrat in the House. Rahm Emanuel joined the Clinton's in 1991 directing the campaign's finances. Following the campaign Rahm became a senior adviser to Bill Clinton and severed in the Clinton administration holding various titles. Rahm was one of the original architects of NAFTA and aggressive anti- gun laws passed by the Clinton administration.
Mr. Emanuel began his career with the consumer rights organization Illinois Public Action. In 1989 he served as a senior adviser and chief fundraiser for Richard M. Daley.
Rahm and Barack have a deep history together is Chicago politics. Emanuel has been instrumental is the rise of Barack Obama from neophyte Senator to the next president of the United States. Getting virtually no media attention Rahm Emanual has been by Obama side during most of the last two years on the campaign trail.
Emanuel belongs to an orthodox Jewish congregation in Chicago and worked as a volunteer in Israel during the first Gulf War. His father Jerusalem born Benjamin M. Emanuel was a member of the Irgun, a Zionist Militant organization in the 1940s. The Irgun bombed the King David Hotel occupied by the British and housing the British authorities of Palestine on July 22, 1946. The group planted a bomb in the basement of the hotel. The ensuing bomb blast killed 91 and injured another 46.
¤ ¤ ¤ ¤ ¤
Source: http://www.dailynewscaster.com/2008/11/04/rahm-emanuel-the-next-president-of-the-united-states/
A Look at Rahm Emanuel - Obama's Chief of Staff?
YOUR NEW PRESIDENT, ZBIG BROTHER
Source: http://www.thepeoplesvoice.org/TPV3/Voices.php/2008/11/05/rahm-emanuel-the-next-president-of-the-u#more423
************************************************
More
Lawrence Summers ***, 53, is favored to return to the Treasury post that he held under President Bill Clinton because Obama values his experience and familiarity with markets and global leaders, a crucial asset during the markets crisis.
Still, people close to the president-elect stress no final decision has been reached and that Timothy Geithner ****, president of the New York Federal Reserve, is also a strong contender. Geithner would also be welcome by many in the financial community; at age 47, he would be a fresh face in an administration that ran on a mantra of change.
Source
***
Summers -
Bringing back an old hand from a previous criminal administration is 'change'?
****
Geithner is part of the illicit Fed. Keep the corrupt bankers in charge?
*************************************************
Barack Obama has lined up his Cabinet to avoid a power vacuum

A President Obama would draw heavily for his Cabinet and White House appointments from a pool of Democratic governors, former Clinton White House officials and political veterans from his power base in Chicago.
The short list for Secretary of State includes Bill Richardson, a former presidential contender last year, New Mexico Governor and Mr Clinton's former UN ambassador. Also being seriously considered is John Kerry, the 2004 Democratic presidential nominee and an early supporter of Mr Obama in the primaries.
Two Democratic governors who have thrived in Republican-leaning states – Janet Napolitano, of Arizona, and Kathleen Sebelius, of Kansas – are also tipped for Cabinet posts: Ms Napolitano as a possible Attorney-General; Ms Sebelius as a potential Energy or Education Secretary.
Inside an Obama White House his chief campaign strategists, David Axelrod and David Plouffe, would get senior posts. Two men are strong contenders for White House chief-of-staff: Tom Daschle, the former Democratic Senate Majority Leader, and Rahm Emanuel, the Illinois congressman.
Mr Obama is likely to keep President Bush's Defence Secretary, Robert Gates, in his post.
*********************************************************
Obama - please leave liar and war criminal Powell out in the cold.
Any position for Powell in your administration would also be a crime.
Education Secretary?* Teaching to die in foreign wars of lies?

*******

Speaking from Hong Kong, retired Gen. Colin Powell, the black Republican whose endorsement of Obama symbolized the candidate's bipartisan reach and bolstered him against charges of inexperience, called the senator's victory "a very very historic occasion." But he also predicted that Obama would be "a president for all America."
Source


*Time Magazine's Mark Halperin reported last night that Obama is considering asking former Secretary of State Colin Powell, a Republican, to be education secretary. Powell, who endorsed Obama last month, has a longtime interest in the subject.
Source
**********************************************************************
Moon of Alabama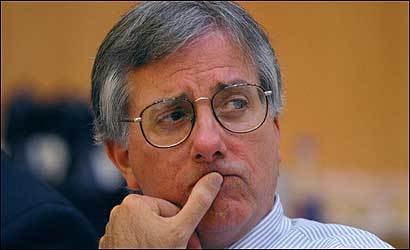 There is also Dennis Ross, who may become Sec State or at least Middle East handler. WINEP, an AIPAC outlet, names him as no.2 in their staff listing. Ross also heads the Jewish People Policy Planning Institute in Jerusalem:
JPPPI's work is based on deep commitment to the future of the Jewish people with Israel as its core state.
Ross was involved in a recent Bipartisan Policy Center report: (ms word):
The report is the product of a high-level bipartisan Task Force led by former Senators Daniel Coats and Charles Robb, and including Ambassador Dennis Ross and Steve Rademaker, ..
...
It advises the new President to engage Iran in negotiations with a pre-determined timetable once our European allies impose greater economic sanctions. If negotiations fail, the report advises the U.S. to pursue more aggressive tactics, including possibly blockading Iran's gasoline imports and eventually its crude oil imports.
Those folks seem dangerous.
Then again - anyone who wants to strangle crude oil imports to Iran, a tactic that I suspect to fail, may not have the capacity to do real damage.
It seems like the Democrats attract only the intellectually lower level of the neocons. That may change though.
***********************************************

JOY AND SORROW: Secretary of Defense nominee Robert Gates joins in a line dance with cadets at Texas A&M...
On the national security front, the first decision may be whether to ask Defense Secretary Robert Gates to remain for an interim period, a move favored by a number of influential congressional Democrats and the military. As the new president focuses on the financial crisis, they argue, this would offer continuity.
'Extraordinary Job' *
He's done an extraordinary job,'' Senator Jack Reed, a Rhode Island Democrat, said of Gates. ``I would hope that in some capacity he could continue to serve.''

*Continuing the killing for lies is 'extraordinary'?
*********************************************************
Global Warming Messiah - A new cabinet post?

Al Gore
As a former vice president and creator of the highly influential film An Inconv -- OK, you already know all about the guy. If Obama wants to name a climate czar, Al Gore would certainly be at the top of the short list; Obama has said as much. Gore would bring knowledge, expertise, and unparalleled star power (unless Bono took the job ...), and he could clank his Nobel Peace Prize on the table for added gravitas at cabinet meetings.
Carbon credit scam
As proposed, Obama's climate plan would cut emissions of greenhouse gases linked to global warming by 80 percent by 2050. Emissions credits would be sold in an auction under a cap-and-trade program, not doled out to utilities and others for free. Companies that exceed caps must buy credits on top of those obtained at auction in Obama's cap-and-trade plan.
Would
Al
have to divest from his own
company
?

*************************************************************
Huffington Press throws a couple of Kennedys into the mix.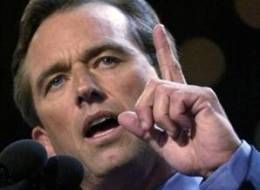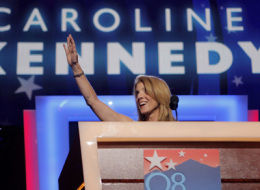 Quick Read

**************************************************************


Potential new positions?



Will there be a "war on terror fraud" czar?
Would that be for prevention or continuation?

How about a censorship
"Free speech is dangerous"
czar?
Someone to cover up for the coming lies.

An independent investigator for reopening the 9/11 investigation?
Yeah... right.

A special prosecutor for indictments and trials for the previous administration's war crimes?
Dream on kids.