Twelfth Bough
To make it look good and provide a little cover...
It happens on a major holiday. People are busy doing other things besides digging around on the computer. The news they get is most likely from TV. CNN? Yes. Pesky bloggers? No.
The targeted site: the Taj Mahal. Think Las Vegas.
The perpetrators are young, and they ask for British and American guests.
"They were very young, like boys really, wearing jeans and T-shirts," he said, adding that he and another hostage managed to escape on the 18th floor.
Really. And they targeted Jews. Specifically the Chabad Lubavitch headquarters.
http://news.yahoo.com /s/ap/as_india_shooting;_ylt=AnkQ4KHZrKdJNsO9K2j_F4as0NUE

But they're not very effective in killing the actual targets. Despite their bags of almond snacks, the terrorists kill mostly innocent bystanders. Confusion reigns about whether or not the high-value (ie: British, American and Jewish) hostages have been released. Keep on worrying everyone.
Naturally, Al Qaeda immediately rises to the top of the suspects list. The responsible group, however, has never been heard of before. Somehow these terrorist cells always miraculously escape intelligence and burst onto the scene completely unexpectedly. Which is weird, you know, that they're so good at avoiding surveillance but yet they suck at the nuts and bolts of carrying out an effective terrorist attack. Hmm.
But we
know
that these terrorists are vicious young Islamic extremists and Muslim militants. What other explanation can there possibly be?
-- blink blink blink --
Look up Chabad Lubavitch. The Chabad Lubavitch is a Jewish Supremacist group whose leaders regularly enjoy audiences with world leaders.
Here they are with George W. Bush: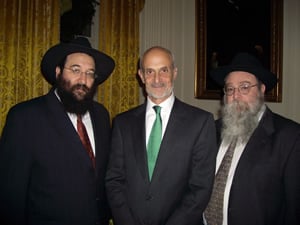 And here are some with Michael Chertoff. These rabbis have had their pictures taken with many famous people. Go ahead and look it up. Look up what they stand for. Have you ever heard of them? Do you think they are some obscure, harmless rabbis? Think again. These are powerful people who throw their weight around at the highest levels.
Isn't it strange that their Indian headquarters would be involved in this terrorist attack? What are the odds of that happening? Why does the Chabad Lubavitch even have Indian headquarters?
But can't you just hear it now? "Oh, gee whiz some nice Jewish scholars were attacked by evil Muslim Islamofacist terrorists in India! What are we gonna do, Louise? And they attacked British and Americans citizens, too! They must hate us for our freedoms, and they're anti-Semitic to boot! Goodness gracious. What's this world coming to??"
Oh geez yeah.
Here's background on the Chabad Lubavitch from
Michael A. Hoffman II and www.RevisionistHistory.org
:
NEW JERSEY SUPREME COURT CHIEF JUSTICE RABNER AND ASSOCIATE JUSTICE ALBIN ADDRESS TALMUDIC LAW SEMINAR
July 17, 2008

http://www.chabad.org/news/article_cdo/aid/703108/jewish/Civil-Rights-on-the-Docket.htm

Some 200 attorneys and jurists packed a ballroom of the Madison Hotel in Morris Township, N.J., for two presentations dealing the nexus between civil rights law and Talmudic jurisprudence.

The topic for the second-annual Jewish Law Symposium, a project of Chabad-Lubavitch of Southeast Morris County, was "Democracy and the Uncertain Fate of Individual Rights."

Leading off the discussion was New Jersey Supreme Court Justice Barry T. Albin, who tackled the traditional American concept of civil rights; Rabbi Shlomo Yaffe, dean of the Institute of American and Talmudic Law, gave attendees the Jewish approach to the issue.

In a surprise appearance, the newly installed chief justice of the New Jersey Supreme Court, Stuart Rabner, shared a few words with the crowd before turning the dais over to Albin.

Participants could earn New York and Pennsylvania Continuing Legal Education credits for their attendance. "

The laws and ethics of the Talmud have served as a cornerstone of humanity's civil and moral infrastructure, while shaping it's legal systems," said Rabbi Shalom Lubin, founder of the Jewish Law Symposium and executive director of the sponsoring Chabad House."

MICHAEL A. HOFFMAN'S NOTE:

The "Institute of American and Talmudic Law" (see below) was co-founded by Nathan Lewin, Supreme Court Justice Antonin Scalia's close friend. Lewin is a member of the institute's faculty. Mr. Lewin is on record advocating the killing of the parents and siblings of Palestinian suicide bombers. Justice Scalia is a staunch supporter of the institute, which teaches American judges and lawyers how to apply rabbinic halacha to US courts.

There was widespread condemnation of Rowan Williams, England's Archbishop of Canterbury, when he said recently that some of Islam's Sharia law should be allowed to play a part in British jurisprudence. But the incorporation of Talmudic law into the US judiciary raises nary a whisper of disapprobation from the crusaders for "Western values"who denounced Williams. Do they imagine that rabbinic law is a western value? Note that the state education departments of New York and Pennsylvania officially accredit the Institute of American and Talmudic Law. Needless to say, the association of the Talmud with "civil rights" for gentiles is chutzpagh with a capital "C." Such falsification would leave even George Orwell speechless.
Outrage and accusations from India
:
Our worst fears have come true. It is clear that Mossad is involved in the whole affair. An entire city has been attacked by Mossad and probably units of mercenaries. It is not possible for one single organization to plan and execute such a sophisticated operation. It is clear that this operation was backed by communal forces from within the Indian State. The Home Minister Shivraj Patil should resign. The RSS-BJP-VHP-Bajrang Dal should be banned. Advani and others ought to be arrested. Today is a day of shame for all Indians and all Hindus. Muslims and secular Hindus have been proven right. RSS type forces and Israel are all involved in not only destabilizing but finishing India. India should immediately snap all relations with Israel. We owe this much to Karkare and the brave ATS men who had shown the courage to arrest Praggya Singh, Raj Kumar Purohit, the army officer and several others.
An explanation that actually makes sense
:
Modern criminal investigation still rests on the Aristotile's 3 equally important causal factors: Means, Method and Motivation.

Factor analysis - Means, Method and Motivation: Powerful western media organisations reinforce their opinions with repetition, linking assaults like these with former "Islamist attacks" and another "terrorist attack". Their logic and factor analysis use (1) the weapons used, (2) the similarity of past attacks by "Al Queda" and (3) motivation. But of course they never consider the possibility, based on this same factor analysis, that the architects may be the CIA and/or Mossad.

Means: That the most powerful military machine in the world has the means to arm groups like the one who is carrying out the Mumbai attacks requires no apology or defense.

Method: History is replete with examples of U.S./Israeli use of a surrogate to attack their enemies. William John Fox pointed this out in his exemplary analysis, Deliver Us From Chaos: Ten Political Commandments. In 1953 they used domestic terrorism to overthrow Mohammad Mosaddeq, former Prime Minister of Iran. They used the Afghan Mujahideen to attack Russia in the same year of their resistance. The CIA and the U.S. ambassador secretly engineered the "Rose Revolution" in Georgia in 2003 and "the U.S. encouraged the Israeli-trained Georgian army to invade the disputed enclave of South Ossetia five years later".

Motivation: The only difference between the factors used by the capitalist media and ours is motivation. Regarding motivation, CNN states "they (Deccan Mujahideen) want to create as much damage and attention to themselves as possible".

CIA/Mossad are masters at destruction, but the last thing they want is bringing attention to themselves. Motivation for the U.S. to take it's war to Pakistan fits perfectly with these attacks. As a matter of fact, Barack Obama and Joe Biden already declared their intention to take the war to Pakistan and stated with certainty that Obama's "mettle would be tested" by a major international "incident" in the near future.

If the perpetrators want to draw attention to themselves, their method (i.e. killing civilians), simply does not make sense unless one buys the Bush regime's religion-based simplism that they are simply "evil". Militant's fighting for causes such as independence or national sovereignty want least of all, international negative attention or popular hatred. The only thing missing from the corporate media explanation is George W. Bush's idiotic claim that "the terrorists are jealous of our freedoms". Using this the corporate media's methodology, it is entirely reasonable and just as easy to implicate the CIA and Mossad.

To be continued, probably in Pakistan.
*****************************************************************
Friday, November 28, 2008
aangirfan
Reidel

1. Bruce Reidel is considered to be the man behind Barack Obama's Hawkish views on Pakistan

Reidel, a former CIA officer and adviser to three US presidents on South Asia and the Middle East, has been appointed by Obama as his Pakistan adviser. Mumbai attacks may sharpen Obama's Kashmir focus

Reidal may be giving us some clues about possible CIA involvement in the November 2008 Mumbai attacks:

"This is a new, horrific milestone in the global jihad," said Bruce Riedel, a former South Asia analyst for the CIA and National Security Council and author of the book "The Search for Al Qaeda."

"No indigenous Indian group has this level of capability.

"The goal is to damage the symbol of India's economic renaissance, undermine investor confidence and provoke an India-Pakistani crisis." Gunmen May Have Trained Outside India, Officials Say

Is the CIA trying to:

1. slow India's economic progress

2. and get India to help the USA in an Attack on Pakistan?
Dawood Ibrahim

2. Indian officials have blamed the 1993 bombings in Mumbai, which killed 257 people, on Dawood Ibrahim, an organized crime figure who remains on the run. Gunmen May Have Trained Outside India, Officials Say

Dawood Ibrahim is suspected of working for the CIA (aangirfan: Dawood Ibrahim of the CIA?)
3. The Bombay attacks reportedly killed the people who had uncovered links between the terrorists and elements of the Indian military.
"The Mumbai Anti Terrorism Squad chief Hemant Karkare and other officers of the Anti Terrorism Squad have been killed.
"These were the same people who were investigating the Malegaon Blasts – in which Praggya Singh, an (Indian) army officer and several other noted personalities of the (right-wing 'fascist') BJP-RSS-Bajrang Dal-VHP were arrested." - CIA ATTACKS BOMBAY? CIA WANTS INDIA TO HELP IN ATTACK ON PAKISTAN.
Lt Colonel Srikant Purohit, from Indian military intelligence, was reportedly involved in several blasts.
When bombs go off in India there is a tendency to blame Moslems.
However, the evidence points to the terror being the work of people within the Indian military, the Hindu fascist movement, and the CIA and its friends.
The September 2006 Malegaon bombings were a series of bomb blasts that took place in Malegaon, a town in the Indian state of Maharashtra, some 290 km to the northeast of Mumbai.
The explosions killed at least 37 people.
According to Maharashtra Police, in November 2006, the blasts were the work of the
Student Islamic Movement of India
.
[1]
However, on 8 November, 2008, the Maharashtra Anti Terror Squad revealed that Lt Colonel Srikant Purohit of the Indian military was involved in a blast that killed people in Malegaon in September 2007.
The Anti Terror Squad indicts Purohit for supplying the RDX used in the blasts. (
ATS Investigations show Purohit procured RDX
/
Indian officer held over blasts
)
The Anti Terror Squad has also found out that Purohit attended secret meetings of the 'fascist' Hindu group Abhinav Bharat.
Now it is being reported that Lt Col Srikant Prasad Purohit, the Army officer arrested in the Malegaon case, was involved in other blasts as well. (
More detained as Purohit probe spreads to blast in Nanded 2006
)
Photo of Indian children from http://commons.wikimedia.org/wiki/Image:Agra_Children.jpg

The CIA wants India to help in its attack on Pakistan.

The CIA wants Indians to think that Pakistan is behind various acts of terrorism in India.

In 2008, US national Ken Haywood, reportedly with the help of the US embassy, fled from India. (Cached)

He was being investigated for terrorism.

Ken Haywood's computer was used to send a "terrorist" e-mail minutes before bomb blasts in Ahmedabad, in July 2008.

Reportedly, Haywood has links to Abdur Subhan Qureshi, alias Taufique Bilal and Tauqir, reportedly the top terrorist in India.

Haywood returned to India in September 2008. (Ahmedabad blasts: Ken Haywood arrives in India 11 Sep 2008, 0215 hrs IST, C Unnikrishnan,TNN)
Photo of Bombay by Wen-Yan King

In India, Haywood works for a firm called Campbell White, suspected of being a front for the CIA.

Haywood doesn't feature on its list of employees. (Cached)

The Indian Express reported on 14 August 2008 that the company's Mumbai office 'is located in two small adjoining rented rooms on the ground floor of Sanpada railway station complex', and that 'the two rooms also serve as prayer rooms for Potter's House... part of the Christian Fellowship Ministries based in Arizona.'
Duplex in Wadala

A Post at 'Consortium of Indian Defence Websites' (Cached), 20 Aug 2008:

"Haywood's fleeing immediately after the cracking of the Gujarat blasts and capture of the perpetrators is most suspicious.

"His escape resembles that of our ex-R&AW traitor,who also escaped with alleged US help.

"It also indicates that we may have in our intelligence services moles/informants working for foreign agencies tipping off agents within the country.

"However,the fact the Haywood was working for a bogus 'missionary' outfit is doubly alarming.

"The role of US so-called missionaries/evangelical groups in India is very controversial,for they are playing a dual role in agressive conversions as well as being part of the CIA destabilisation plan for India.

"Tehelka a few years ago revealed the fact that over 100 US so-called "Christian" evangelical groups/organisations were in fact bogus and part of Bush's CIA network.

"The question that now looms large in the mind is what connection exits between the CIA and the SIMI (Students Islamic Movement of India - Wikipedia, the free encyclopedia) sponsored terrorists?

"Is SIMI actually a CIA operation?

"Does the Islamist terrror in India have a CIA-ISI background.

"Given the cosy relationship that the ISI and the CIA have had for decades and the termemndous importance and preferential treatment that Pak receives in comparison with India,it stands to reason that a sinister destabilisation operation is on to weaken India, especially at a time when we have the weakest ever puppet PM and his govt. in power."
Photo from http://Ahmedabad_riots.jpg


In October 2007, the investigative newsmagazine Tehelka reported on the Tehelka Gujarat riots sting :

1. Several Hindu nationalist (Sangh) leaders explain on camera how they planned a massive massacre of Moslems.

(http://www.tehelka.com/story_main35.asp?filename=Ne031107spycam_videos.asp)

2. The involvement of the Chief minister of Gujarat (Modi) is revealed.

3. The complicity of the police is revealed.

4. The connivance of the judiciary is revealed.

Frontline India ( Action replay) commented:

"Yet, no action has followed one of the most explosive news investigations in India.

"None of those caught on tape boasting about raping, burning and hacking Muslims have been arrested or even interrogated.

"Modi's authority has not been questioned.

"Instead, there is an eerie silence. Far more eerie than the cold-blooded murders of more than 1,000 innocent people during the communal massacres of March 2002.

"The role of the Modi government in the State-sponsored terrorism of 2002 is well documented. Even the Supreme Court had censured Modi for being 'a modern day Nero who watched while Gujarat burned'.

"Now, the Tehelka tapes offer irrefutable proof of how the Sangh (Hindu nationalists) organised a 'Hindu jihad' across Gujarat and protected the murderers."

(Tehelka comment -Does Anything)

~~

aangirfan: India falls in love with Israel and deserts Iran

aangirfan: Mossad increases its control of India
~~Posted by Anon
Source: http://aangirfan.blogspot.com/2008/11/bruce-reidel-dawood-ibrahim-and-bombay.html

*****************************************************
Friday, November 28, 2008

Elements of the Pakistan Intelligence Service ISI reportedly work for the CIA and its friends, and not for Pakistan.
Elements of ISI are said to use alleged gangster Dawood Ibrahim to do some of their dirty work.
Dawood Ibrahim originally comes from Bombay and may be linked to the November 2008 attacks on Bombay (Mumbai).
Allegedly the CIA and its friends are trying to cause chaos in several countries, in order to weaken rival powers such as India, Russia and China.



The aim may be to weaken India, China, Russia and other rival countries



Andrew G. Marshall at Global Research, 17 September 2008, wrote about terrorism in India (The Role of the CIA-ISI Terror Network).
Among the points made:
1. "The ISI appears to play the role of a force for the destabilization of Central Asia, India and the Middle East.
"It acts as a Central Asian base of operations for the CIA and British Intelligence to carry out Anglo-American imperial aims..."
2. "Will India be destabilized and dismantled, as is the plan with the Middle East and Central Asia, in order to redraw borders to suit geopolitical imperial ambitions, creating a network of manageable territories feeding the Metropoles of the New World Order, specifically New York (Wall Street) and London (The City of London)?"
3. "All three terrorist groups associated with creating and having links with the Indian Mujahedin (IM) have extensive ties with the Pakistani ISI.



Reportedly, General Ahmed, of ISI, had links to 9 11



4. "The ISI may ... have played a roll in 9/11 itself, as its General was in Washington in the lead up to and during the 9/11 attacks, meeting with top intelligence, State Department and Congressional officials, including CIA Director George Tenet, Deputy Secretary of State Richard Armitage, Secretary of State Colin Powell, Senator Bob Graham, Representative Porter Goss, who would go on to become CIA director, and Joseph Biden, who is now Barack Obama's running mate.
"The ISI's General, while meeting with all these top US officials in foreign affairs and intelligence, also happened to be the money man behind 9/11, having wired $100,000 to the lead 9/11 hijacker, Mohammed Atta..."
5. "On March 12, 1993, Bombay (now called Mumbai) experienced 13 explosions in a coordinated attack...
"Dawood Ibrahim was believed to have coordinated the attacks.
"Ibrahim is known for extensive ties to Osama bin Laden and Al-Qaeda,[27] has financed operations of the Lashkar e Toiba (LeT),[28] and was believed to be hiding out in Pakistan.[29]
"The 1993 Bombay bombings were 'organised by Dawood Ibrahim under pressure from the Inter-Services Intelligence of Pakistan.'[30]"
6. "Ultimately, the benefactors of the Indian Embassy bombing in Kabul and other bombings, such as the recent New Delhi bombing in India, is not Pakistan, but is the Anglo-Americans."
7. "Pakistan ultimately will collapse as a result of these actions being taken."
Reportedly, the CIA and its friends have links to the Opium trade


8. "ISI should be viewed in the context of being a Central Asian outpost of Anglo-American covert intelligence operations.
"This connection between American and British intelligence and the ISI is also corroborated by their continued cooperation in the covert opium trade in Afghanistan, whose profits are funneled into the banks of Wall Street and the City of London.[53]...
9. "Recent events in Pakistan, such as the assassination of Benazir Bhutto, which has been linked to the ISI, should be viewed in the context as an active Anglo-American strategy of breaking up Pakistan, which will spread chaos through the region.[54]
"Destabilizing and ultimately breaking Pakistan up into several countries or regions will naturally spread chaos and destabilization into neighboring countries.
10. "This is also true of Iraq on the other side of Iran, as the Anglo-American have undertaken, primarily through Iraq, a strategy of balkanizing the entire Middle East in a new imperial project.[55]
"One of the main targets in this project is Iran, for which the US and Britain have engaged in massive acts of terror and orchestrating large battles and conflicts from within the already-failed state of Iraq.[56]...
"It is not merely the Middle East that is the target, but Central Asia, specifically for its geographical relationship to the rising giants such as India and China. This also follows in line with Anglo-American strategies in destabilizing the Central European region, specifically the former Yugoslavia,[58] and more recently, Georgia, largely in an effort to target Russia.[59]"

~~~