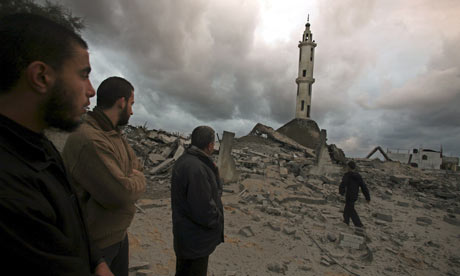 Reem al-Naraib, 32, a Christian Aid-supported worker at the Women's Affairs Centre in north Gaza
"I haven't been able to leave my flat since the bombing started. We see the Israeli photo-reconnaissance planes coming over, but never see the F16 jets. They are very high when they shoot their missiles. We hear the explosions and watch the smoke going up.
My oldest son, Hussein, who is 12, has something in his lungs and nose from the smoke. He can't sleep or breathe properly. We can't take him to hospital. If we go they will say 'Get out, it's not a big deal'.
My husband is telling the children there's no clinic, so now is not the time to be ill. We can't buy bread. My sister is baking some for us. There's no electricity. It's so cold, and raining. We have to leave the windows open to prevent them being blown in.
I am six months pregnant. I feared I would lose my baby through shock when the bombing started. My children were all at school and we couldn't get through on the telephone. Eventually [all three] got back here.
My nine-year-old, Sarah, has been vomiting again and again because she is so scared of the bombings. [The Israelis] hit the Islamic University, two streets away. My children are saying 'We want to leave this country. We want to go away. We don't want this war.'
Sometimes we hear Palestinian rockets go off. They are firing them from the middle of the city. So we are scared the Israelis will hit us. From my window I can see a tower block that used to house Hamas offices and a police station. It has been hit every day. The buildings around it are badly damaged.
My husband, who works for the United Nations, wanted to take the car out, but I said 'No, it's not safe'.
They will hit anything. Two doctors were killed in Jabalia Camp driving a hospital emergency car. Gaza is a ghost city. Everything is closed.

There's no place that's safe."
source: http://www.guardian.co.uk/world/2009/jan/01/israel-gaza-bombings
*****************************
Ola Attallah, IOL Correspondent
December 31, 2008
GAZA — When Heba El-Sakka heard the thundering sound of the Israeli bombardment, she was, just like every time, terrified to death. But it never crossed her mind the target this time was her university.
"My graduation project, the fruit of five years of hard study, vanished in a blink on an eye," the engineering student at the Islamic University in Gaza (IUG) told IslamOnline.net with tears rolling down her face.
"It can't be. It feels like the missiles took away a piece of me."
Israeli warplanes have fired air-to-ground missiles at the IUG, the biggest and oldest scientific edifice in the impoverished Gaza Strip, on Monday and Tuesday.
Six buildings in the university, including the female dormitory, were completely flattened as a result.
The IUG, which has more than 16,000 students, said the Israeli bombardment has completely leveled science and engineering and other research laboratories.
It also ruined hundreds of academic research papers by graduate and post-graduate students.
"My graduation research is all gone," Mona, another engineering student said with her voice choked with tears.
"The Israeli strikes killed that, too."
more

*************************************


Photo: GETTY IMAGES
Gaza ground invasion looks likely as weather clears
After two days of rain and cloud cover which made the use of tanks and armoured infantry difficult, the skies over the Gaza Strip cleared today.
Israel's security cabinet of Ehud Olmert, prime minister, Ehud Barak, defence minister, and Tzipi Livni, Foreign Minister, were due to meet to decide on the next stage of Operation Cast Lead.
Since the attacks began last Saturday, a total of 450 targets have been struck by guided bombs and missiles. But with the number of potential targets now declining the cabinet will need to decide whether to keep up pressure on Hamas by sending in Israeli ground forces.
An Israeli security source said: "There is a strong sense that for the first time Hamas is on the back foot and the decision must be taken on how to push through our advantage."
Any ground operation is expected to lead to a surge in the number of civilian Palestinian casualties. more: Telegraph UK
Graphic: Gaza conflict death toll (pdf)
New Year in Gaza: "Our fireworks are the Israeli missiles"
"Look outside, F-16 jet fighters are smiling for you, missiles are dancing for you, zannana [the Palestinian name for pilotless drones] are singing for you. I requested them all to wish you a happy new year." That was the darkly humorous text message Fathi Tobal, a Gaza City resident, received from a friend on his mobile phone today.
Tobal added ironically, "While other people around the world celebrate, it seems the Israeli air force is trying to save us the cost of fireworks."
more