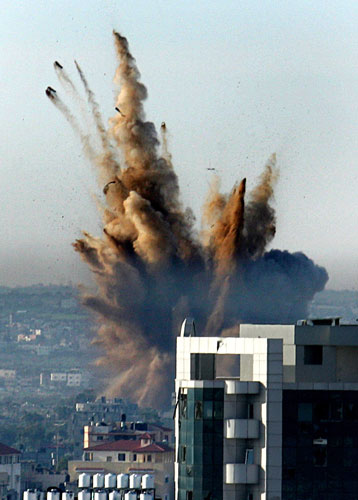 Gaza City, 14 January: An Israeli air force attack Photograph: Abid Katib/Getty Images
Comfortable Conspiracies
As this new year dawned, this site was engaged in reporting the struggle of the people of Gaza against the ruthless invading army of Israel that was hell bent on wiping Gaza off the map with as little political blow-back as possible.
That wasn't very difficult for hardcore right-wing Likudists and the war-party of Israel to do, since we all know, and it is pretty much a cliche now, that the mainstream media in the U.S. has a definite pro-Israel editorial policy; one that makes it difficult if not next to impossible for the average American, occupied with the business of living in a collapsing economy, to gain a clear perspective on what has happened recently in Gaza and what the actual history of the conflict is.
Not only that, but there is a definite trend in the US mainstream media to portray the Palestinians in Gaza as some kind of criminals or terrorists or psycho-jihadists, in order to diminish the outrage that we would feel as a people toward the perpetrators of the atrocities taking place in Gaza right now. It's a carefully scripted propaganda campaign, designed to allow Israel to illegally grab a patch of land in an immoral way, without losing their all important support of the American people. And the U.S. Government is in lock-step with the corporate media in this effort.
Almost like a "conspiracy" wouldn't you say?
more - Scott Creighton at American Everyman
*******

'Warning: Israel Plans to Strike Gaza Hospitals'
Israeli MP and leader Avigdor Liberman stated that "Gaza has to be erased from the map by nuclear bombs, like what Americans used in Hiroshima and Nagasaki." And the war criminal foreign minister Tzipi Livni said that Israel's campaign against Hamas in Gaza "is serving the interest of the Palestinian Authority as well as that of Israel". Liebermann is a cousin of a member of the US Senate who has the same name. Livni is the offspring of a family of terrorists, murderers and thieves who emigrated from Poland.
more - Kawther Salam ∙ Palestine Think Tank
via
Detain This
*******

Debunking the "Human Shield" Myth
The planners thought that they could stop the world from seeing these images by forcibly preventing press coverage...But in a modern war, such a sterile manufactured view cannot completely exclude all others – the cameras are inside the strip, in the middle of the hell, and cannot be controlled. Aljazeera broadcasts the pictures around the clock and reaches every home....
People with moral insanity cannot really understand the motives of normal people and must guess their reactions. "How many divisions has the Pope?" Stalin sneered. "How many divisions have people of conscience?" Ehud Barak may well be asking.
As it turns out, they do have some. Not numerous. Not very quick to react. Not very strong and organized. But at a certain moment, when the atrocities overflow and masses of protesters come together, that can decide a war
more - Chris Floyd

*******
New York Jews Cheer on IDF and call for "Wiping Palestine Off the Map"
Nothing like a little, or rather, a lot of bloodlust to help keep one warm on a snowy New York day. To say that some of these NY Jews are just plain fucking nuts might be an understatement, but judge for yourself.
All wrapped up with the admonition that it's GOD killing the Palestinians. Funny, but I thought it was AMERICANS that made those F-16's and Apache helicopter gunships and the White Phosphorous that is being used by the IDF to butcher the Gazans, not God.
After Israel gets thru "wiping Gaza off the map," it will be off to the West Bank and finish the ethnic cleansing of the Palestinians still living there.
And then off to Lebanon, to "wipe that country off the map." Gotta steal that water from Lebanon's River Litani.
Keep in mind America, it's these kind of folks that are in control of the Congress and White House.
And yet, Israel likes to say it's a peaceful nation.
more - Greg Bacon
*******
The Real "Axis of Evil" in the World
Get the big picture: This shows the gradual theft of Palestinian lands by the Jews over the decades. Note, how they are whittling away at the West Bank and are busy clearing the area around Jerusalem.

The Israeli and US Jew Neocons, along with their fooled or corrupted Goyim allies, can now be seen for what they've truly become: The "Axis of Evil" in the world. This is all now being amply illustrated by the International Zionist Jew at his stolen "headquarters" in Israel, as he shows such unbelievable spiteful hate against the Palestinian people of the Gaza, those who dare stand up for themselves and to them. Yet this daily horror, on an all but forgotten people, may actually be the start to a much wider Jew-instigated World War which will necessarily include America and you!
The Jews all try to tell us on the mainstream news that they are doing everything they can to minimize civilian casualties, when it's quite apparent to anyone with a brain, that they are going overboard to kill as many Palestinians as they can get away with. This also includes horrific War Crimes of such a vile nature as to be completely sickening to anyone with the least compassion.
We are dealing with a race and country that has gone completely insane! With the Israeli Jew's behavior and world-wide PR efforts over this whole thing, they've literally become Holocaust deniers themselves! Think about that one.
*******
That U.N. Abstention Vote: The Lies are Flying Thick and Fast
The reality is a little more complex. According to Michael Goldfarb, a neocon with his ears pressed firmly to the administration's ground and writing in the neocon comic 'The Weekly Standard',
the story went more like this
: Cheney had contacted Rice and demanded not so much that she abstain from the vote but to actually veto it which would have killed it stone dead. According to Goldfarb, Rice was set to vote for the resolution and it was the National Security Advisor, Stephen Hadley, who also happens to be one of the few remaining super-neocons in the Bush administration, who suggested the compromise between voting and vetoing, that is; abstaining. Bush took on Hadley's advice and ordered Rice to abstain. Clearly, Hadley, despite preferring to have vetoed as well, at least had enough sense to realise that US public opinion was unlikely to support a veto.
Readers can make of this what they like but two things show through clearly: One, people at the very top of the government tree are liars no matter what way you look at it, and two, the Zionists once again demonstrate how much power they wield over the US.
more - Damian Lataan
*******
Always the last to know
Oh, America. You are always the last to know.
Did you know a genocide is taking place? Right now. Today. It's true. I mean, there have been many, but this one is extra special because we pay for it, and this is top of the line stuff. Well, that's not the only reason, but it will do for now. Our "best friend," Israel, the Bonnie to our Clyde, runs the gruesome genocide show. And it's covered in lies like flies on shit.
Now, theoretically, Americans could make a big stink about this, but first they'd have to know what was going on. As luck would have it, we're pretty easily hoodwinked.
The media has been instructed not to tell you the truth.
more - A. Peasant at Twelfth Bough
*******
Israel's war on Gaza and the role of the Middle East bourgeoisie
As people all over the world react with shock and anger to Israel's genocidal offensive against defenceless Palestinians in Gaza, it is important to review the factors that have enabled this blitzkrieg to occur.
Firstly, the Israeli government has the unconditional support of the United States, which has for decades provided Israel with the military, economic and diplomatic backing necessary to carry out its role as US policeman in the region and to pursue its own geopolitical agenda.
Secondly, the European powers have provided crucial cover by justifying Israel's war crimes as legitimate acts of self defence and are working to secure a cease-fire acceptable to Washington and Tel Aviv that will involve Egyptian President Hosni Mubarak and the US puppet regime of Mahmoud Abbas's Palestinian Authority (PA) policing Gaza.
But this points to a third crucial factor whose political significance in the catastrophe that has befallen the Palestinians has long been underplayed: the role of the bourgeoisie in the Middle East.
The ruling elites have not only failed to come to the aid of the Palestinians, but have supported Israel's actions and worked strenuously to demobilise the widespread opposition within their own countries.

*******
This will be a short article.

It is designed to give you "ammo" in any debate with a zionist.

When debating on Israel, there are three lies spread by the propagandists (whether
paid or amateur) about that small little country.

These are:
1) Israel is a democracy
2) Israel was attacked first by Hamas and is just responding to attacks
3) Israel is just like any normal Western country, similar to the USA or France for example.

Lets take it one by one.
*******
The Fed Creates a Crisis and Hampers the recovery
When Ron Paul made eliminating the Federal Reserve System a centerpiece of his presidential primary campaign last year, media pundits and others scratched their heads in amazement. After all, they reasoned, is not the Fed a collection of "conservative, buttoned-down" public officials who are given the mission of providing prosperity?
In fact, in the wake of every Fed-created disaster since its unfortunate inception in 1913, Congress has bestowed the central bank with even more regulatory and financial tools than it had before the previous economic crisis occurred. It is obvious that when it comes to fighting economic "fires," Congress and a sizable portion of the American pundit and political classes seem to believe that the best "firefighting" tools are buckets filled with gasoline. Thus, our "leaders" have ensured that the previous crisis will not be our last. Like Bill Murray's character in "Groundhog Day," we will be forced to re-live the same sequence of events over and over again.
more - William Anderson at Campaign for Liberty
via
Strike the Root
*******
The psychopathic gangsters who run society
The bad guys, whether they are Jews or Moslems or Christians or Hindus, like to get into bed with each other.
Most of them have no strong loyalty to any particular religion or philosophy or country.
Most of them enjoy making money from narcotics and wars.
Most of them are psychopathic gangsters.
more - aangirfan
*******
Law or Chaos
There is Nothing in Between
Israel is not the only nation on the planet with the right to defend itself. The Palestinian people have the same right to defend themselves from the US-Israeli concentration camps into which they have been forced to live.




The reason that the world signed on to the Geneva Conventions and the International Rules of War was precisely because of this international need for the right of every nation to self-defense.



These are the same conventions and laws that Israel has smashed at every turn in their current slaughter of the Palestinian people. If every nation does not have the right to self-defense, then no nation can claim to have that right. 'The Bible' is not a globally recognized basis for anything in secular or civil law, and given its conflicted history between the old and new testaments; it apparently has no moral authority when it comes down to how any modern nation treats its people today.
Alphabetized Boycott List of Israeli Corporations/Affiliates and Banking Institutions
boycotting Israeli-related banking institutions, investment firms, mortgage lenders, credit cards can be very effective and influence choices in the U.S./Israel/United Kingdom/Europe/India/Mid-east/Asia/Australia/South America -- obviously everywhere.
If where you do your financial business is Israeli-related, withdraw your money and handle your financial business elsewhere. Find out who is the "parent" bank of whatever branch, investment or mortgage firm you are dealing with and choose accordingly [See list below.] or find alternatives or hide your money under your mattress or in a container in the ground. ;-) /cm
more - Palestinian Mothers
via
After Armageddon
*******
Campaigns Urge Boycott of US Firms over Gaza Massacre
An extensive campaign was launched several days ago, calling for a boycott of American companies over the Bush administration's support for the Israeli military operation in the Gaza Strip. Thousands of people from all across the world have already joined the boycott efforts.
The companies mentioned in the campaign are
McDonald's, Starbucks, Pizza Hut, Coca Cola and the Marlboro cigarette brand
. The people behind the campaign urge that if all people worldwide were to stop purchasing American products, the United States economy would lose $8.6 billion a month.
more - Atheo News
*******
Wikileaks Exposes UN War Atrocities
PHOTO UN "peacekeepers" torture a Somali child over fire. (http://whatreallyhappened.com/RANCHO/POLITICS/UN/peace.html)
(Jan 14, 2009) Wikileaks has released over 600 United Nations investigative reports, over 70 of which are classified.
The reports expose sensitive matters from allegations of hundreds of European peace-keepers sexually abusing -- and impregnating -- refugee girls, to generals in Peru using Swiss bank accounts to engage in multi-million dollar procurement fraud.
A number of the reports have not only been marked "Strictly
Confidential," but as an additional measure have had selected regions
redacted before before internal distribution.
Often these redacted regions can be "unredacted" by simply "cut and pasting" the blanked area.
more - Conspiracy Planet
********
Waiting For Obama
President-elect Barack Obama appears to be signaling that he is not inclined to investigate crimes committed by the Bush Administration. In an interview with ABC News program "This Week With George Stephanopoulos", he picked up on the recent Democratic spin that we should all "look to the future and not the past" even if the past happens to contain war crimes committed by his predecessor.
Many civil libertarians are concerned that this will be another flip-flop from Obama after he surprised many by voting in favor of telecom immunity. During the campaign, he made it clear that he believed that waterboarding is torture, an inescapable position. Yet, the deductive reasoning is inescapable. If waterboarding is torture and torture is a war crime, then the Bush Administration committed war crimes. Yet, it appears that once again practicalities have proven the enemy of principle. With many insisting that such an investigation would be a distraction. It is the latest spin from Democrats. Democrats first insisted that they could do nothing about criminal programs like the torture and surveillance programs because they did not control Congress. Then, when they controlled Congress, they insisted that there was not enough time left in the Administration to investigate and that we would have to wait for the next Administration. Now that they have been given the White House, they are insisting that we need to look forward and not behind.
more - Jonathon Turley via The Greanville Journal
*******
FDA is Deeply "Corrupted and Distorted," Claim Its Own Scientists in Protest Letter
FDA scientists have become so fed up with the criminal behavior of their own administration that they've filed a strongly-worded complaint with President-elect Obama, alleging the FDA has been deeply "corrupted and distorted."

FDA managers, the letter explains, are "placing the American people at risk" by using tactics of intimidation to censor scientific debate within the FDA. This scientific censorship agenda, of course, mirrors the exact same tactics used by the FDA outside the agency against makers of nutritional supplements or herbal products. Intimidation and censorship, it seems, are part of the very fabric of the FDA.
more - Mike Adams at Natural News

*******


Walmart Enslaves the Masses with "Sun King" Mind Control
It was 1995 and Walmart was taking the nation by storm. They promised to "buy American" and leveraged this lie into virtually every small town in America. Only the exceptional patriot knew the truth. The "eye in the sky" technology being built into every Walmart was a surveillance system perfected in casinos to serve the mob, a mob that has morphed into our own top-down government. It was on track for a major facial technology revolution and was fully connected to the FBI/CIA network known as the
Sun King
.
Few Americans had any idea of its import. As they were seduced into the new materialist emporium, they were being photographed, scanned and coordinated with data that placed their most private personal possessions, their own facial features and credit cards, with the beast at the top of government. Of course, "terrorism" comes along, conveniently, to make all of this intrusion into your personal life "necessary." The full seduction of buying cheap belies the fact that you have sold your own soul. Gone are the Ma and Pa arenas where all politics is local. The buying frenzy briefly worked to distract America from the fact that the "anti-American extremist terrorists" were really globalist Mind Controllers at the top of our own government. Your children are being driven into the absolute top-down tyranny of dumbed-down, globalist conformity and it's an enormous Mind Control scam based on ancient usury devices. Your children will be corralled into deeper and deeper conformity until any opposition to obvious Nazi power will be impossible. What can be the harm, says the mind-controlled masses?
more - Roberts Court
*******
El Paso council achievement
The resolution ultimately failed, but the discussion continues and the seed is planted.
O'Rourke pushed things further by adding 12 words: "supporting an honest, open, national debate on ending the prohibition on narcotics." The council passed it unanimously.

Yet even a bid to talk about drug legalization was too much for Mayor John Cook. He vetoed the bill, at least partly out of concern that Washington might not take the measure seriously with the drug legalization line in it.

Nevertheless, the controversy brought what has been rare American media attention to Mexico's crisis by turning it into radio and cable TV talk fodder. That's a start. [..]

When you step back and take a broad look at Mexico's growing carnage, it's easy to see why El Paso's city leaders think legalization doesn't look so bad. Mexico's drug problem is not the drugs. It is the illegality of the drugs.

Legalization is not the perfect solution. But treating currently illegal drugs in the way we treat liquor and other legal addictive substances would provide regulation, tax revenue and funds for rehabilitation programs. Most satisfying, it would wipe a lot of smiles off the current drug lords' faces.
This is why the prohibitionists don't want even an open honest national dialogue about legalization. They're afraid that when that happens, their precious drug war is doomed.
And it's getting harder and harder to keep that discussion under lock and key. It's escaping and will be heard.
more - Pete Guither at Drug War Rant

*******
Richard Perle: Still Crazy After All These Years
Now that the greatest strategic disaster in American military history is an accomplished fact, its architects are distancing themselves from their handiwork. For the past year or two, we have been treated to the spectacle of what might be called neoconservative panic syndrome – the cabal that lied us into war is frightened to death of being held responsible for the catastrophe. Their catastrophe.
And who can blame them? After all, the consequences could include prosecution for all sorts of crimes, running the gamut from torture to deliberately misleading Congress to violation of the Intelligence Identities Protection Act. In a halfway rational world, these people would be tarred and feathered, at the very least, before the law had a chance to nab them. Instead, these war birds are still pontificating from their protected perches on the op-ed pages of the New York Times and the Washington Post, albeit to a shrinking and increasingly skeptical audience.

more - Justin Raimondo at antiwar
*******
more - Rock the Truth
*******
British ambassador says "Zionism is Bullshit!"
British Parliament wants "mass-murdering" Israeli ambassador expelled
more - Pirate News TV
Israel - Public Enemy Number One
Things are very tense in the Middle East and as a survivor of Israel's attack on the USS Liberty 41 years ago I am convinced that the truth about what happened to us can change the world and change what people believe about "poor old Israel", as the Liberty story is the straw that will break the back of the Zionist Government murderers. Americans will not stand with Israel when the Liberty truth is told, and it is our duty to get this done now!
Each day that goes by I feel guilty over the deaths of the innocent men, women and children of the Middle East and I will not live with that. If I must stay on the computer 24 7 I will. If I must be on the networks I will. If I must beg my country to not allow any more murder of innocent Palestinians I will. If I must give my possessions, my money, my life, whatever, I will honor the Constitution of the Untied States of America just as I swore to do over 40 years ago. I have been lucky enough to be born in this I promised land. We are the "PATRIOTS" of our time we must bring back the reason and honesty our forefathers gave us. If not, we will not see the smiling faces of innocent loving children ever again in this country. PATRIOTS must rise up NOW and demand life, demand dignity to all persons without the Zionist threat of destruction of all mankind.
We will not be blackmailed by you, ISREAL, not one more second. We know that you are all about world domination and that's not going to happen. America is too strong and we are smart and despite the fact there are still some dummies out there who support you the list is getting shorter by the minute.
Get the hell out of our country and get out now…Take your whores, your drugs and your movie producers, and your homosexuals with you when you leave. Have your orgies in Israel and leave the rest of the world alone. It wont take long as your filthy life style will seal you murdering fate.
Go Gods chosen people spend your days in blisters and bliss!!
This USS Liberty Survivor Phillip F Tourney is very proud to out you Murdering bastards of my innocent American brothers. I guess the hit is on me again with your murdering assassins that's fine I will be waiting for you.
Now you will have to murder the rest of the USS Liberty Survivors and there supporters that's not a problem for you guys it was a case of mistaken Indenty one more time but guess what the murders you are going to do this time the American public will not stand for it. That means your busted remember we have people looking for your Israeli assassin's or who ever you chose to murder us all over again.