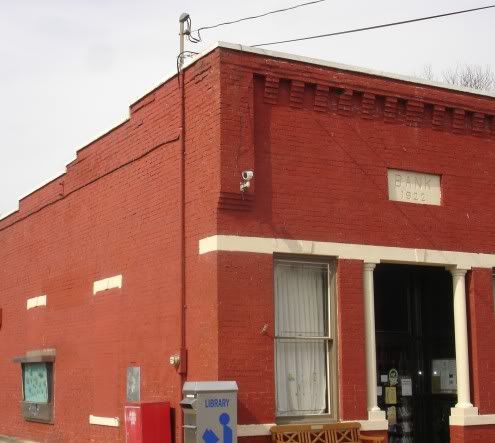 Although not from current 'stimulus' money, Homeland Security did contribute to our town's 'safety' through the funding of surveillance cameras. All 252 of the 'townies' should be relieved.
Stimulus money will soon be coming to rural America but it seems like more of the same old 'Homeland Security' schemes. More militarization of the local police and an increase in the 'big brother' social services.
More Federal Stimulus Grants for Cannon County


With the local economy in a slow down and a lot of Cannon County folks out of work, our local elected officials would be wise to sharpen their pencils and start looking for as many of the federal stimulus grants that local governments can apply for. There are several of these grants that local governments can apply directly to the federal government for (which means they have to ask for the funding or they won't get the money!).

As there are numerous federal agencies that are administering stimulus grants, our local officials should keep their eyes peeled for funding opportunities to help our community through these rough economic times.

If the grants are available why not?





Here are three stimulus fund local grants that just opened up that Cannon County can apply for now...

Assistance to Rural Law Enforcement to Combat Crime and Drugs



http://www.ojp.usdoj.gov/BJA/recovery/RecoveryRuralLE.pdf




Office of Victims of Crime grant to combat violence against women & children



http://www.ojp.gov/ovc/fund/pdftxt/FY09RecoveryAct_National_Field_Generated.pdf



Recovery Act Byrne Competitive Grant: Cannon County has been allocated $10,884 under this grant already!!!

http://www.ojp.usdoj.gov/BJA/recoveryJAG/JAGrecoveryLocal.pdf
Helicopters are handy in these down times. You never know when those
'domestic terrorists'
will need to be tracked down. An infrared system may even help find those 'hot spots' of activity deemed not appropriate for making a little money among the unemployed.
We've got a new helicopter to fight crime, assist in rescue efforts, and emergency management in the Cookeville District THP which includes Cannon County.

A Bell Jet Ranger THP helicopter is now stationed in Crossville. more
Tennessee will be receiving an estimated
$5 billion
in tax debt money and getting broadband access in rural areas is on the table.
Another program funded by stimulus money is Connect TN, according to state Sen. Bill Ketron who sponsored legislation for statewide cable TV franchises. Connect TN is to improve Internet connections. It and related programs funded by the federal government have been compared to rural electrification.

"Broadband is a huge chunk of the stimulus program," Ketron said.

Some $4.7 billion is to be distributed nationally by by the national Telecommunications and Information Administration "to build out broadband in unserved and under-served areas for public safety and training and education."
I wonder if there will be stipulations regarding the filtering of 'undesirable' websites in the package.
What I see missing from the stimulus package is any money for assisting new manufacturing of essential items. Since the US manufacturing base has eroded, one might think this would be an area of opportunity. Making things here instead of China, Mexico, etc. would spread the wealth around but I guess the globalists have other ideas.
Of course individuals can apply for some stimuli through .gov websites. A friend recently spent a lot of time putting together a proposal for a sustainable farming project. In the mission statement he said that this project would be a good alternative to GMO seed crops.
Opps, that may have been a mistake in going against the Monsanto crowd.
Sorry man, no free money for you.