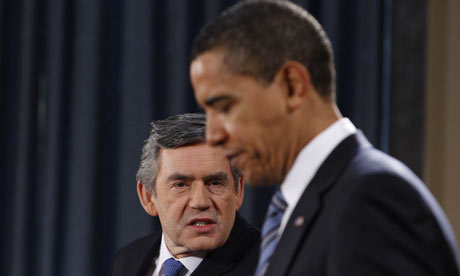 The moniker,
Financial Fools Days
, may be aimed at the bankers and leaders of the 'civilized' world but from my point of view it applies to the billions of people who march in lockstep to the pipers' tunes. So far, the theft of the world's resources is pretty much a success and there appears to be no sign of relief for the masses.
Who exactly are the fools? That would be us.
As
Chris Floyd
writes in
Beyond Here Lies Nothing: Surging Further Into the Abyss
, the
political class has failed us.
That failure is not a mistake and continuing war is part of the plan.
At every level, they have failed us. Republican and Democrat, they have failed us. Liberal, conservative and centrist, they have failed us. They have lived on lies, and lived by lies, for so long that they no longer know how to comprehend the truth, much less communicate it or – God forbid – act on it. And so they plow on deeper into the darkness, in zombified pursuit of pointless goals, heedless of the signposts warning of danger, like some demented wagon train dragging a load of dead mules toward the edge of a cliff.

Political failure is nothing new, of course. Deliberate deceit – and egregious self-delusion – are nothing new. Misrule and evil on the part of elites are nothing new. But the great churning engines of the American Empire – especially its war machine – are infinitely more vast and powerful than anything seen on earth before. Its inextricably entwined economic and military forces permeate the globe. Nowhere on earth can you completely escape the tourbillions of these forces; yet because of this same pervasive reach, there is now no place on earth that cannot send its shock waves back up the line, roiling the imperial heartland itself. The very magnitude of the American power structure makes the consequences of its crimes and failures more destructive and widespread: the difference between your house being hit by a cannonball or by a cruise missile.

I am, I suppose, what most people would call a cynic. I don't see how anyone who has followed American politics for as long as I have – some 40 years now – could be anything else. To quote Uncle Bob once more, when it comes to politics, "I ain't lookin' for nothin' in anyone's eyes." I expect to be lied to. I expect to hear horseshit and fairytales wrapped up in threadbare pieties and Orwellian doublespeak. I expect power and money and militarism to carry the day. Even so, I must admit my guts lurched with queasy dread last week when Barack Obama announced, with a flourish of falsehoods and fearmongering, his grand plans to escalate the "Af-Pak" War.

In fact, the domestic side of their efforts is even more radical, more shocking than Obama's dull-witted "continuity" in Terror War. The new administration is openly transferring trillions of dollars to a small core of financial elites, in effect placing the rest of the country into a state of economic peonage to these remote and unaccountable overlords -- who have, astonishingly, used the fear and suffering created by their own actions as an opportunity to take their domination of society to even greater heights. What Obama and his economic team are abetting is, as Simon Johnson and others have noted, nothing less than an oligarchic coup d'etat. I lived through one of those in Russia in the 1990s, and it was not a pretty sight. And again, because the scale of the American power structure is so much greater, so too will be the far-reaching, long-lasting consequences of this coup.

The long, hard, thankless effort that it would take to roll back the bloated global empire of bases and curtail the power of the oligarchy (for you can't do one without the other) has not even begun. Obama is not trying to wrest the ship of state toward a new direction; he is deliberately and willingly continuing on the same disastrous, destructive course as before. Every day carries us further and further away from the shore, and makes any effort to reverse course that much harder -- if indeed, it is still possible at all. more

Besides war, taxing the poor to feed the rich is an ongoing project of the empire.
Detain This reports on just one of the forced taxation scams to keep the rabble in line in
Advocating Plunder: AP on the Tobacco Tax
Federal tax increases on tobacco products will take effect on April 1.

The reason for the new hikes, supposedly, is to pay for children's health care, under the Children's Health Insurance Program Reauthorization Act of 2009.

It's all just another cartelization device for driving out competition while funding the federal cartel's wars. The only ones sure to benefit from the increased plunder will be the federal-health monopoly, federal-tobacco monopoly, and the D.C. politicians whose coffers are filled by health-care and Big Tobacco lobbyists.

And The Associated Press is all too happy to assist.

On March 29, AP ran a story titled "Smokers face a hit as tobacco taxes spike." They may as well have titled it "Advocates make airtight case for legislating morality," or "Lobbyists demonstrate benefits of monopoly." As usual, root-striking legal and moral arguments are omitted and replaced with a narrative-dialogue awash in fallacy and conjecture and bolstered by government statistics. None of it is corroborated or challenged.

At the bottom of the report, the editor inserted a link to a U.S. Treasury site, where a table shows the exact tax increase on each of the ten categories of tobacco products taxed by the U.S. government. The AP report highlights two of them: class A cigarettes, up from .39 to 1.01 per pack, and chewing tobacco, from 19½ to 50 cents per pound.

Now, those are huge increases, to be sure. The tax hike on a pack of smokes, a bag of chaw, a can of snuff, or a box of stogies is a whopping 158%.

But that is the smallest hike among the other tobacco products.

The tax hike on roll-your-own tobacco is 2160%, while the tax hike on on small cigars is 2653%! [1]

In opening the report, the AP editor called it the "single largest federal tobacco tax increase ever." Why, then, would the two largest increases in history be omitted from the report?

Who knows. But, it just so happens that the makers of class A cigarettes have not been doing so well during the recession, while the roll-your-own industry has been doing very well, from manufacturers to consumers. And what do ya know! According to Wikipedia, "On January 6, 2009, Altria Group, Inc. completed the acquisition of UST Inc., the world's leading moist smokeless tobacco [chewing tobacco, snuff] manufacturer." Altria owns Phillip Morris USA, maker of Marlboro and many other class A cigarettes. (Good thing their taxes go up only 158%, eh? Otherwise, they'd have to compete fairly with the RYO folks, and that takes work.)

And think about it. Who could honestly and plausibly explain why someone paying less than $20 for a one-pound pouch of tobacco today will pay around $7o or more tomorrow? There simply is no good explanation for rape, even the allegedly-humanitarian financial variety.

Which is why the "for the children" fig leaf is trotted out umpteen times, while the tobacco cartel's biggest names are made prominent in the testimonials of smokers, who are curiously not so averse to their own plunder:

Standing outside an office building in downtown Washington last week, 29-year-old Sam Sarkhosh puffed on a Marlboro Light. His 8-year-old daughter has been pleading with him to quit, he explained, and he has set a goal to give up smoking by his 30th birthday.

"I'm trying to quit smoking, and it could help," said Sarkhosh, an information systems specialist. "I don't think it will stop me from buying cigarettes every now and then, but definitely not as often." A friend who smokes Camels went out and bought four cartons in advance, he said. [Emphasis added.]

The idea here is that Average Joe will be encouraged to either quit or stock up. And when he stocks up, he usually chooses a fresh and satisfying Marlboro Light or a smooth and rich Camel. And if he quits, well, he's doing it for the children — just like Obama & Co., allegedly.

In reality, this is just another case of politicians and their corporate cronies "rigging the apparatus" for a predictable financial surge in their areas of industry and war-making.

And AP is running one heck of a smokescreen for them.

In the 23-paragraph report, one paragraph — the 20th! — gives a superficial and marginalized voice to opponents. There, AP laments: "Some policy analysts have questioned the wisdom" of the plunder which was meant "to finance health care for children." [Emphasis added.]

Not one of those "policy analysts" are named or directly quoted. And no elaboration is provided to their arguments. Meanwhile, praises are sung constantly throughout the report, and not by merely some advocates, but "[m]edical groups [that] see a tax increase right in the middle of a recession as a great incentive to help persuade smokers to quit."

For good measure, AP adds:

But smoking control advocates such as [Eric] Lindblom say tobacco taxes should be even higher. "There's a lot of room to go after cigars and smokeless," he said. "We are certainly hopeful that health care reform will include some more increases."

Right. Because, as everyone — obviously — knows, the way to help an increasingly poorer economy is through an exponentially increased tax burden on private individuals and businesses, thus, among other pernicious things, virtually prohibiting entry into the market. It is precisely through this illicit cartelization via protectionism, disguised as humanitarian action, that politicians and their coffer-filling cronies have historically enriched themselves off the backs of private citizens.

Only through the government's monopoly on the use of force, and it's thus looted largess, can a monopoly survive in an otherwise competitive and free-entry market. AP should at least recognize the moral and historical arguments against government intervention. Instead, under the guise of an argument against the tax hikes, the editor makes an inference to the necessity for even more federal control over personal decisions, noting that "[t]he tobacco industry is also warning that the steep increase will lead to tax evasion through old-fashioned smuggling or by Internet purchase from abroad."

In other words, a black market will thrive and expand, as it has with the war on drugs, and as it did during the alcohol prohibition of the '20s. And, as always, violent criminals will flourish while law-abiding citizens will suffer exclusively. And instead of repealing the unconstitutional and self-destructive policies, there will likely be a higher tariff and other protectionist tyranny and malfeasance — thanks to AP editorial management, and the government officials and lobbying "experts" with whom they agree, for ignoring the U.S. Constitution and the tragic lessons of history.

The sickest irony here is that the very same measures intended to provide more health-care access to children will surely provide them with more access to tobacco products. Meanwhile, those "health-care" professionals and other lobbyists will be rolling in the dough as their subsidies increase off tax-paying adults, while benefiting from the job security resulting from the worsening health of a new crop of "tax-evading" child smokers.
Fear not. Stand.
From Oath Keepers, a reminder from Patrick Henry, March 23, 1775.

No man thinks more highly than I do of the patriotism, as well as abilities, of the very worthy gentlemen who have just addressed the House. But different men often see the same subject in different lights; and, therefore, I hope it will not be thought disrespectful to those gentlemen if, entertaining as I do opinions of a character very opposite to theirs, I shall speak forth my sentiments freely and without reserve. This is no time for ceremony. The questing before the House is one of awful moment to this country. For my own part, I consider it as nothing less than a question of freedom or slavery; and in proportion to the magnitude of the subject ought to be the freedom of the debate. It is only in this way that we can hope to arrive at truth, and fulfill the great responsibility which we hold to God and our country. Should I keep back my opinions at such a time, through fear of giving offense, I should consider myself as guilty of treason towards my country, and of an act of disloyalty toward the Majesty of Heaven, which I revere above all earthly kings.

Mr. President, it is natural to man to indulge in the illusions of hope. We are apt to shut our eyes against a painful truth, and listen to the song of that siren till she transforms us into beasts. Is this the part of wise men, engaged in a great and arduous struggle for liberty? Are we disposed to be of the number of those who, having eyes, see not, and, having ears, hear not, the things which so nearly concern their temporal salvation? For my part, whatever anguish of spirit it may cost, I am willing to know the whole truth; to know the worst, and to provide for it.


We have held the subject up in every light of which it is capable; but it has been all in vain. Shall we resort to entreaty and humble supplication? What terms shall we find which have not been already exhausted? Let us not, I beseech you, sir, deceive ourselves. Sir, we have done everything that could be done to avert the storm which is now coming on. We have petitioned; we have remonstrated; we have supplicated; we have prostrated ourselves before the throne, and have implored its interposition to arrest the tyrannical hands of the ministry and Parliament. Our petitions have been slighted; our remonstrances have produced additional violence and insult; our supplications have been disregarded; and we have been spurned, with contempt, from the foot of the throne! In vain, after these things, may we indulge the fond hope of peace and reconciliation. There is no longer any room for hope. If we wish to be free-- if we mean to preserve inviolate those inestimable privileges for which we have been so long contending--if we mean not basely to abandon the noble struggle in which we have been so long engaged, and which we have pledged ourselves never to abandon until the glorious object of our contest shall be obtained--we must fight! I repeat it, sir, we must fight! An appeal to arms and to the God of hosts is all that is left us!

Gentlemen may cry, Peace, Peace-- but there is no peace. The war is actually begun! The next gale that sweeps from the north will bring to our ears the clash of resounding arms! Our brethren are already in the field! Why stand we here idle? What is it that gentlemen wish? What would they have? Is life so dear, or peace so sweet, as to be purchased at the price of chains and slavery? Forbid it, Almighty God! I know not what course others may take; but as for me, give me liberty or give me death!
more

That's some strong words from the past that are ever relevant.
Happy April Fool's Day/Financial Fools Day/Reminder to the Slaves Day.
Watch your back or the fools may turn on each other instead of focusing their attention on the real enemies.