Murfreesboro has been hit hard. 2 dead, hundreds of homes and businesses destroyed or badly damaged.
The middle Tennessee area has been dealing with tornadoes for about the last dozen years. Hardly any community has been spared during this time. Before this time period, tornadoes did occur but never to the extent that they do now. Growing up in this area, it was a rare occurrence. Not anymore.
This is the worst damage Murfreesboro has ever seen. The
Daily News Journal
has the best local coverage if you are interested.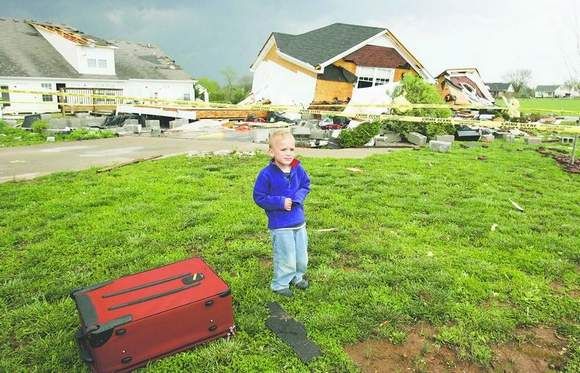 Update: 3/11/09
After the storm cut 15-mile path, focus turns to cleanup



With search and rescue efforts complete, the focus in Murfreesboro is moving to cleaning up the mess tornadoes left behind.

The National Weather Service said today that Friday's tornado was an EF3 with winds 136-165 mph. The tornado's path was 15 miles long and a half-mile wide, according to an NWS meteorologist.A total of 42 people were injured and two people killed in the afternoon storms. About 450 homes were affected — 100 of those completely destroyed — by the tornadic winds, Smith said. {more}




New mom, baby girl die trying to escape from storm's wrath



Kori Bryant was under the rubble, her infant daughter still strapped in her car seat several yards away, when the tornado was finally finished with Rutherford County.

The young mother and her 9-week-old daughter, Olivia, were the first two fatalities reported from the storm that injured more than 40 people. John Bryant, Kori's husband, was critically injured. Tennessee Emergency Management Agency spokesman Donnie Smith said all the injuries were in Rutherford County. That number — and the number of deaths — may rise. Search and rescue efforts continued throughout the night.

Mayvis Werner, John Bryant's grandmother, said she had yet to meet Olivia, the pretty baby girl born just nine weeks ago at 9 pounds whom her grandson was so thrilled to be raising.

"He's going to be devastated," Werner said. "He still didn't know they were dead."

The family learned of the danger before the Bryants felt the impact. John Bryant's brother was tracking the storm about 12:45 p.m. when he realized the twister was headed for his brother's house on Sulphur Springs Road. He called Werner's home in Alabama to tell his mother where the tornado was about to hit.

"He saw it happen," Werner said.

Andrew Piro, 23, a student at Middle Tennessee State University, also was following the tornado with a video camera in hand. Piro turned into a neighborhood near Wilkerson Lane and ended up trapped when a utility pole fell across the road behind his car.

He said he got out to help with rescue efforts once he saw the damage.

"It looked like a nuclear bomb had gone off,'' Piro said.

"Me and one guy went off together. We met a guy who said his brother's wife and baby were missing. You could see he'd been crying and was shaken up.''

"It broke my heart"


Piro said he and the other man went to what remained of the house where friends had last seen Kori Bryant.

They found her outside the house, under the debris.

"It broke my heart,'' Piro said.

Emergency management workers thought they might have been trying to get in their car when the brunt of the storm bore down on their house. John Bryant was found unconscious and taken to the hospital, where he was in surgery late Friday, according to family members.

According to a colleague, Kori Bryant worked in the marketing department at the Murfreesboro Parks and Recreation Department. She took photographs and also worked with the Project Go! program, an anti-drug program for children in the city.

"She was a sweet girl," Werner said of Kori Bryant. "She loved" motherhood.

The Tennessean


Coverage:
Daily News Journal...WKRN...WSM...News Channel 5...The Tennessean
Aerial Photos of Murfreesboro Tornado