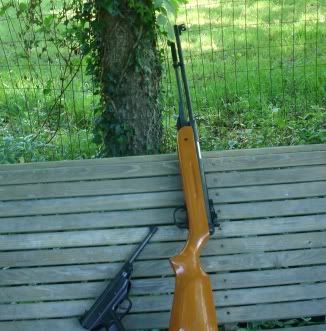 Many people do not have the time, place and money for gun training and practice. There is an option that saves a lot on ammo and won't disturb the neighbors.
A Chinese BB or pellet air rifle and handgun is a cheap alternative. I paid $20 each for the ones in the photo several years ago at the tool show sales that are fairly common around here.
The guns well made, heavy duty and they have the feel and weight of the real ones. Powerful and accurate but only one shot at a time.
I think the transfer of training works.
They are good for teaching kids and useful for chasing varmints from your garden and property.
Practice with handling, point and shoot and safety issues can be had in the privacy of your back yard without getting the law called on you.