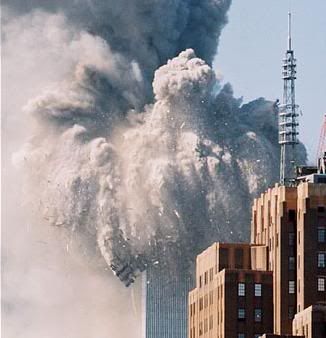 The real reason that the Obama Administration is trying to get the
9/11 victims' families lawsuit against the Saudi royal family
dismissed is that no 9/11 cases can go to court. The cover up won't allow it. Some actual truthful information may inadvertently be revealed. The most damning details would not be about the Saudis. Whatever hand they may have played in the most despicable attack on the American people is minor.
from The Raw Story...

Members of 9/11 victims' families, who filed a lawsuit seeking to pin blame on the Saudi royal family for financing attacks against the United States, just acquired a significant new opponent: the Obama administration.

A Department of Justice brief (PDF link) filed with the Supreme Court on Friday argues that the Saudi royal family is party to a sovereign state and cannot be sued in American courts.

Fifteen of the 19 alleged 9/11 terrorists were from Saudi Arabia, according to the FBI. Former President George W. Bush waited six years to acknowledge this in public.

"Several lower courts have dismissed the lawsuit," noted the Associated Press.

"'I find this reprehensible,' said Kristen Breitweiser, a leader of the Sept. 11 families, whose husband was killed in the attacks on the World Trade Center. 'One would have hoped that the Obama administration would have taken a different stance than the Bush administration, and you wonder what message this sends to victims of terrorism around the world.'"
It's really sad. The victim's families have everyone's heartfelt sympathy but this lawsuit was not the way to get to the truth of the matter. To me it seems it was set up for failure, a diversion away from the real perpetrators
The real suspects are the usual.
Some of those were from within our own government.
Len Hart gives us give us a perspective on this in Last Chance to Indict Bush and Cheney for the Mass Murders of 911?
Others were dual American/Israeli citizens that played key parts.
WRH linked this:

Gallery of Infamy
We can speculate until hell freezes over but without an actual honest investigation with indictments and trials, the whole truth will never be known. We deserve the truth and the rule of law must be upheld.
Unfortunately we have a 'new' government that is a continuation/extension of the 'old' one.
And the cover up must try and continue.
The video below is just one look at a questionable aspect of the 9/11 attacks that has never been addressed by 'the official story' except with lies. Maybe the 9/11 victims' families should ask some questions and file some lawsuits about this. It could get closer to the truth than the direction they have been taking. The Saudis are a
red herring
, the answers are much closer to home and often lead to a certain Saudi
neighbor
in the Middle East.