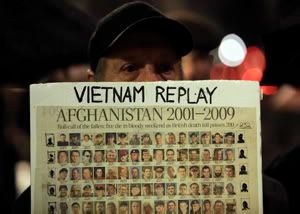 (CNN)
-- Three Americans, including two from the International Security Assistance Force, have been killed in Afghanistan, the NATO-led force said Saturday.
NATO-led troops say woman killed in error
At least 13 Die in a Bombing in Pakistan
The 13 killed at Fort Hood are already eclipsed by deaths in the U.S. occupations. Most of these have been brown people so to many the body counts don't count. The American count will soon increase. 13 dead in Texas is a small number compared to what is to come. Especially when Obama increases the troops. It means more targets.....