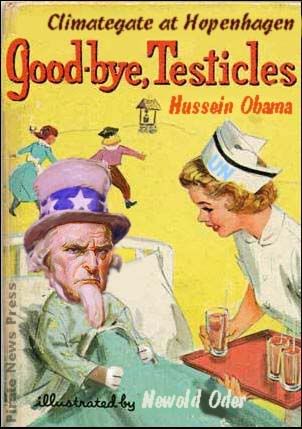 art from Pirate News
Obama gave a lackluster speech
to the climate change crowd at Copenhagen. The BS may be catching up with him and his intensity may be fading.
"I have to be honest, as the world watches us today, I think our ability to take collective action is in doubt right now, and it hangs in the balance.

America will be a part of fast-start funding that will ramp up to $10 billion by 2012. And yesterday, Secretary Hillary Clinton, my Secretary of State, made it clear that we will engage in a global effort to mobilize $100 billion in financing by 2020, if -- and only if -- it is part of a broader accord.

Mitigation. Transparency. Financing. It's a clear formula."

In
Obamawellian
speak mitigation is big government control of all the aspects of 'pollution,' transparency is opaque and financing is theft.
Sovereignty is not yet dead. The fat lady is warming up her pipes but hasn't sung.
The ever present
Lord Christopher Monckton
has stated that the only goal of the conference was to implement the framework and the funding for a world government – which he asserts has been achieved but there is 'hope' that the scam can be overcome.
If reports are correct
, a climate draft accord has been reached and taxpayer costs for the extortion racket in the US will be ...
$US10 billion a year from 2010 to 2012, climbing to $US50 billion annually by 2015 and $US100 billion by 2020.

Since the American public hasn't gone down kicking and screaming over the billions/trillions in banker giveaways, endless wars and political corruptions, I'm not so sure that that this scheme won't succeed. It's what the globalists are betting on ... that we actually are sheep and the slaughter is not far away.
But perhaps they have underestimated us and overestimated how much they can suck from the host ...
"it's hard to run when your belly is full of blood."

Meanwhile,
Hugo Chavez spoke
right after Obama at the conference and what did he say?
"By the way, it smells of sulfur in here."