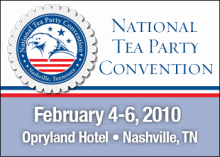 Charge them up to the tune of maybe
$100,000
.
Daily Paul
today reminds us of the upcoming National Tea Party Convention.
If you think this is a grassroots political movement of the working class, think again. This is mainly a ploy from the Republicans, neocons and their warmongering media buddies to extort big bucks from some who may actually think these people and groups are trying to create change for the better. Mostly it's a bunch of shills out for money, political power and self promotion.
The
Tea Party Nation's
list of
speakers
, besides headliner Sara, include World Net Daily's Joseph Farah, Fox News Contributor Angela McGlowan and Republican reps Michele Bachman and
Marsha Blackburn. Nashville's own 'lover of all things war'
WWTN Talk 99.7
is also a contributor.
First let's check
the cost to get in
. A ticket for everything is $558.95, skip the banquet and it's only $358.71.
Opryland Hotel
is very nice and you can get a room for $110 or $175 with an atrium view (plus charges and taxes). Definitely not for the common folks.
The organizers have stated this is not about the creation of a third party ... surprise surprise. Anyone looking for an alternative to the two party crime syndicate had best try and figure out something else. Most people I know are tired of this flipping of power between Dems and Repubs with essentially the same results; more taxes, more war, more laws, less freedom.
The co-opting of the tea party movement by moneyed interests is a deception and a recipe for failure. True constitutionalists and criminal government and media observers see through it. Perhaps the rest of the folks who once saw the potential for a grassroots movement will also see this faction for what it is and let it die.
Instead of expensive conventions we need to take to the streets against the power structure ... peacefully and by the millions. That's a message the oligarchy may understand.