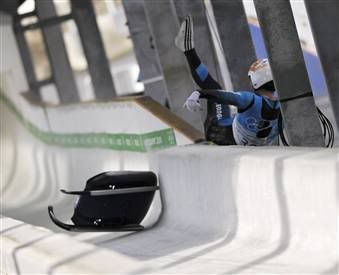 The
video
of the tragic death of the luge athlete today is played in
prime time
. The
photos
of his last seconds are chronologically arranged on the web.
But this photo taken by
Zoriah Miller
, when published, cost him his
embedded status with the military in Iraq
.
There will always be a debate on whether the graphic images of death should be used by the media, especially when their motive is profit and when young children can easily view them. But should there be a double standard?
Seeing the luge accident
on TV over and over
may dissuade parents from letting their kids go into that sport. It may give the kids pause if they are considering it.
Would seeing the the images of the horrors of war on the nightly news perhaps dissuade parents and the 'volunteer' youth from participating in the fraud of war? Isn't that the real reason for the censorship?