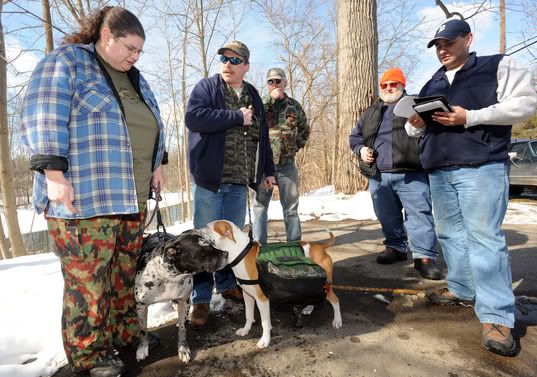 Michigan Militia member James Schiel, second from left, told AnnArbor.com today {3-28-10} that five people were arrested in the raids. He is pictured with Hutaree member Wendy Lineweaver, a member who goes by the name Chainsaw, a member named Kevin, and Will Bachman. In the photo, they were helping local law enforcement officials search for a Bridgewater Township man who was missing in February. {more}
Feds confirm 'activities' in southeastern Michigan
Federal agents conducted raids over the weekend in Lenawee and Wastenaw counties that reports say may be related to some members of Hutaree, a Christian-militia group in Michigan.


"We can confirm that there were law enforcement activities in the Lenawee/Washtenaw County area," said Detroit FBI Special Agent Sandra Berchtold. But she added that "the federal warrants are sealed and we can not comment at this time." {more}
Is it a coincidence that on March 25th
annarbor.com
reported that the SPLC and ADL attacked local officials for requesting and receiving help from a local militia group in searching for missing persons? People helping people is now not acceptable if those helping have a label attached to them that some don't like.
Who are the real hate groups here?
Bridgewater Township official turns to militia for help; watchdog groups question decision

Bridgewater Township Supervisor Jolea Mull has twice sought help from militia members this year to search for missing township residents.

The move is drawing criticism from militia watchdog groups, who say Mull is legitimizing an extreme right-wing movement that has a history of being associated with criminal activity.

And the partnership comes as the militia movement is exploding across the country, driven by fears of economic collapse and the potential for a crackdown on gun rights under the Obama administration, watchdog groups say.

About 50 militia members from five units live in Washtenaw County, militia leaders say. They are survivalists, who favor larger local government and a smaller federal government. Members are fiercely protective of their free speech and gun rights.

When Mull learned from Washtenaw County sheriff's deputies that a township woman was missing Jan. 13, she contacted local militia leader Jimmy Schiel.

"She said, 'Hey, we need help to do a ground search for Anna-Maria Wheeker," Schiel recalls of their phone conversation that morning. "I said, 'So you want the militia?' And she said, 'Yes."

Mull, who said she was pleased with the militia's response, contacted Schiel again Feb. 17 when deputies told her 56-year-old Robert Melvin Wise was missing.


Mark Potok, director of the Intelligence Project at the Montgomery, Ala.-based Southern Poverty Law Center, which monitors extremist groups, questioned why an elected official would reach out to the militia.

The militia movement has been involved in an "enormous amount of criminal violence" and "huge number of domestic terror plots," Potok said.

"It certainly seems poorly advised to be kind, to ask people who believe in completely false conspiracy theories and see the government largely as an enemy to help in law enforcement matters," Potok said. "I don't see how that could work out well."

Mull, a Republican, turned to the militia because of their training in search and rescue techniques, familiarity with the local community and willingness to help, she said in a prepared statement. About 1,700 people live in Bridgewater Township in southwestern Washtenaw County.

"Unfortunately, in both cases, the searches ended tragically, but there's an old cliché that says, 'You are either part of the problem or part of the solution," she said. "It is clear to me from these experiences that our local militia is part of the solution."

"Based on what I have observed of our local militia's efforts, I highly recommend that other municipalities coordinate with and get to know their local militia members."

The sheriff's department was grateful for the help, said Derrick Jackson, the department's director of community engagement.

"The volunteers were helpful whether they were militia, whether they were residents of that community or friends of elected officials," Jackson said. "They did exactly what we asked of them."


An elected official seeking help from the militia is "extraordinarily rare," said Mark Pitcavage, director of investigative research for the Anti-Defamation League.

"Most people would stay away from these groups like the plague for very understandable reasons," he said.

Mull's decision to reach out to the militia comes as the militia movement is experiencing an "incredible resurgence" across the country, Pitcavage said. The movement gained steam after the government's siege of the Branch Davidian compound in Waco, Texas, in 1993 and later tapered off.

But in the past 18 months, the number of militia groups has quadrupled to 200, Pitcavage said. "They wanna change the world," "they are not satisfied with the status quo."

"Certainly, the militia movement has generated a number of violent or otherwise dangerous individuals," Pitcavage said.

read the entire article with videos at annarbor.com
We just can't have people in small communities helping each other. That might bring folks together. The hate organizations SPLC and ADL want a divided population. It's good for their business and the business of those they influence in the FBI and DHS.