Dennis Kucinich calls for an end to the wars and for Congress to do its constitutional duty. A good gesture but in vain as most of the rest of his colleagues are scared to death of the MIC and AIPAC lobbyists
and care nothing about lives.
A Petition

Requesting

the U.S. Congress

to Stop Funding Additional Troops

in Afghanistan.




Whereas, Congress has the responsibility to decide whether to go to war under Article I, Section 8; and




Whereas, it's not up to the United States to be able to choose the government of other countries, and




Whereas, Congress has the responsibility to focus on conditions at home in America, addressing infrastructure, putting millions of Americans back to work, saving millions of people from foreclosure and helping 47 million people to receive health care; and




Whereas, Congress must acknowledge public sentiment in our communities, where people are desperate for jobs, trying to protect their wage levels, worried about their investments, their savings, their security; now therefore,




I STRONGLY URGE MEMBERS OF CONGRESS TO VOTE AGAINST ANY FUNDING FOR ADDITIONAL TROOPS IN AFGHANISTAN AND THAT CURRENT FUNDING BE REASSESSED AND REDIRECTED TO THE ECONOMIC NEEDS OF AMERICANS AT HOME.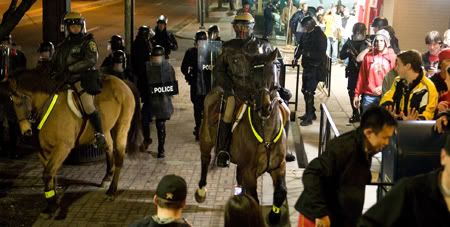 Meanwhile,
college kids at the University of Maryland
take to the streets, set fires and raise hell resulting in police state action against them. But this street theater was not against the wars or federal government spending and debt that jeopardizes their future or any other worthwhile cause that students should be speaking out against.
No, it was over a f**king basketball game.