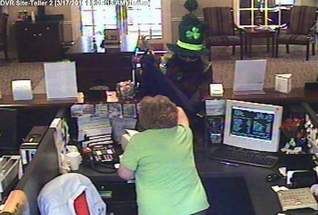 No pot of gold this time.
Leprechaun-dressed bank robber tied to Santa-dressed heist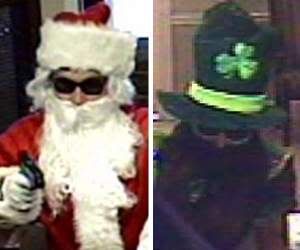 GALLATIN — The man shot and killed after robbing a Gallatin, TN bank dressed as a leprechaun on St. Patrick's Day is the same man who robbed a Hermitage bank dressed as Santa three days before Christmas, investigators say.
Two men robbed First State Bank on Nashville Pike at lunchtime Wednesday, firing at police during a chase down busy city streets to a field behind a subdivision where they were killed in a gun battle with officers.
David Christopher Cotton of Wildwood Valley Road in Brentwood was identified as the man in the leprechaun suit, and Jonathan Ryan Skinner was identified as the driver of the getaway vehicle. Skinner was a student at Western Kentucky University.
Investigators say Skinner was shot by officers; they believe Cotton killed himself but are waiting for an autopsy to verify that.
The two have been linked to the Dec. 22 robbery of SunTrust Bank on Old Hickory Boulevard in Hermitage during which a man in a Santa suit filled a red sack with money and fled in a gray car parked in a nearby church parking lot, according to Gallatin police working with the FBI's Bank Robbery Task Force. {
more
}
20-year-olds identified as St. Patty's Day bandits
Times Online coverage