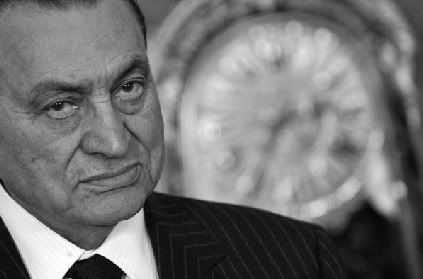 A 'Mubarak Moment' could become a new pop phrase for when everyone from the media to the president appear to anticipate and report something that doesn't quite end up as their talk suggested.
Today was almost one of those
"Dewey Wins"
days.
Maybe it's the move that those in the background actually wanted. Give some power to the CIA helpmate
Omar Suleiman
and hopefully
buy time
to get their plans straight. It gives the appearance of appeasing Israel and Saudi Arabia.
Or maybe it's an attempt to really stir up the protests? How are those in the streets and the
military
going to react? Peaceful,
repression
, chaos? Will Egyptians
kill more Egyptians
? Send a message not only to the other restless Middle East countries but to Americans that taking protests too far will have consequences? Mubarak hinted at it.
The
idea
that this is one more step to 'balkenize' the Middle East is still in
play
. Plans that go back decades don't go away easily but plans can go astray.
Break this cycle of control of the people and never ending war?
It will take millions of people in the street ... with resolve ... and love.
First in Egypt ... then in the rest of the world.