"These are the times that try dog's souls."
Anyone who has been working outside in the heat this month knows that the dog days are real. Physical burnout and mental stagnation are the symptoms. The only cure is cooler weather and even then I'm not sure cooler heads will prevail.
I know the sun has turned me into a well done fried pie since every time I turn on the news I feel I must be hallucinating because there is
Mad Michelle Bachmann
and
Sick Rick Perry
, two horsepersons of the zionist apocalypse, spewing words that are unquestionably insane. They're
"from the lord"
and shout "by god we'll bomb the world to prove it." It's a bad trip, I know, I just can't seem to come down.
Several of us were sitting around outside at an older couple's home the other day when the lady began one of her stories. It was about how a few springs back she had watched a couple of bluebirds build a nest, have babies and saw them grow until it was time for them to take out on their on. The first two little ones flew but the third hit the ground where a snake immediately pounced and ate it. The lady was mad, grabbed a hoe and killed the snake, cut open its belly and took out the dead bird and buried it. She finished the story with "the snake was evil" which set off her 83 year old husband on a rant about how animals can't be evil. They only do what instinct tells them to do to survive. The conversation turned to that it appears that evil only comes from the consciousness of man. Seems obvious to me.
The old man surprised me with his next few questions. "Why are we here anyway." "Isn't being human one of the weirdest things in the universe." "Is this all some sort of joke." I didn't have the answers.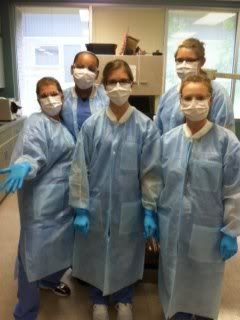 When
dog days
come around we tend to get a little crazy but we've been wearing the safe suits (
family insider grin
). The infectious lies of the Bachmann's and the Perry's and the Obama's and all their handlers and masters are not being breathed in and passed along. Pretty soon our resistance will be strong enough that we won't need the suits at all.
Who said "every dog will have its day?" Ours is coming soon.
That I'm positive of .....
Jimi Hendrix - Curtis Knight & the Squires (aka the Lovelights)
1965