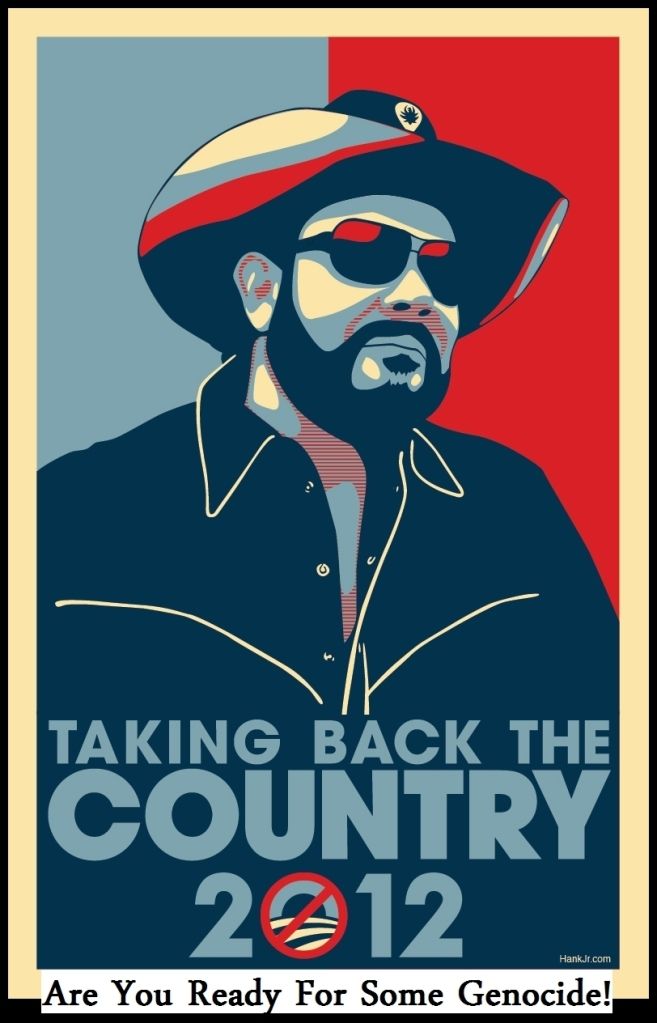 Hank Williams Jr. is really not worth talking about but we'll try and make some small point.
Freedom of speech is great. No matter how dumb, grab a pulpit and shout it out.
Jr.
was in Iowa the other day...
Following the song "We Don't Apologize For America" a chant of "USA, USA" broke out amongst the crowd. Williams smiled, telling the crowd that he was their mouth piece and adding:
"We've got a Muslim president who hates farming, hates the military, hates the US and we hate him!"
The cheers that followed were loud and enthusiastic.
Now most of us don't like Barry. We also don't like Romney and his little twinkie Paul Ryan. We certainly didn't like Bush and Cheney. Heck, the last politician we even tried to like was Jimmy Carter but he was in over his head and that didn't turn out very well. We tend to be an equal opportunity disliker, unlike Jr. who seems to think that if there's an R after the name then they must be all giddy for God and country...and war.
What's the deal here Jr? You and Barry actually seem to have a lot in common. Both of you don't appear to mind if the military kills off a bunch of Muslims, protects opium crops, destroys countries in the Middle East, sucks up to Israel and gives bankers a free rein to steal. Just like your hero GW did, not much difference there. I guess Barry's just not progressing fast enough in the killing for you. I'd say you want any attack on Syria and Iran to be delayed until after your Mitt takes office so he can take all the credit...and you too can take a bow as a mouth piece.
Rumors in my head say that you want to kick off Mitt's inauguration with a rousing "Are You Ready For Some Genocide!"
Maybe I shouldn't be so hard on you Jr. After all, the accident back in '75 that left your frontal lobes damaged and all the years of drug and alcohol abuse may have taken its toll and you just can't help yourself. Plus all the repetitive rhetoric whispered in your ear from your buddies Shawn Hannity, Glenn Beck and Mike Huckabee about Muslims did 9/11 and we've got to get 'em over there before they do it again was just too hard to overcome.
Country music has long been a tool for the neocons. Drinking and carousing, support the vets, that's all you need. No songs of peace allowed. No speaking out against war even if you apologize. Just ask the Dixie Chicks. Rejecting the two party system of fraud in song? Why, that would be downright un-American.
I don't know what Jr's
daddy
would have said about all this. He didn't live very long. At times he did have some good lyrics though. Jr. must have forgotten
this one
.
A tongue can accuse and carry bad news




The seeds of distrust it will sow




But unless you've made no mistakes in your life




Be careful of stones that you throw