If you've ever had a conversation about the potential for media fakery in live TV broadcasts, one only has to point to the NFL games.They've been doing it for years with first down markers. Now Fox has unveiled its latest technology in the
Eagles and Lions
game in Philadelphia where there was up to 8 inches of snow on the field.
Fox is periodically superimposing the field markings (including the yard numbers) over the snow.
It's creating the impression that the lines — and the numbers — actually have been scraped of snow.
It's not perfect but it does make me wonder what else the networks and perhaps
DARPA
might have up their sleeves. Media fakery can come in handy when trying to sell a scenario. Digital TV makes it easier than ever before.
Speaking of weather.....
Can Snow Storms Really Be Engineered?

There is a mountain of data including already conducted experiments, satellite imagery, lab tests of snow, observations on the ground, and multiple existing patents, all of which point solidly to the conclusion that snow storms are being engineered with well established weather modification processes. Two known patents for the process of "artificial ice nucliation for weather modification" are posted at the bottom of this article. The Chinese government has openly admitted they are creating "artificial snow storms" but later backtracked after causing a billion dollars of damage to Beijing. If the Chinese government can routinely create snow storms out of what should have been a rain event, how much more advanced must our government be at this same process? When monitoring radar images of rain during a storm, it is now common to see the rain "flash out" to snow for no appearant reason. No mountains, no colliding air mass, nothing. The "meteorologists" at the Rothschild's/ military industrial complex owned Weather Channel call this "turning over to snow". Why would rain just "turn over" to snow for no reason? more
I don't want to get too carried away here, we have always had major storms of all types, but when it comes to the subject of geo-engineering the MSM is basically silent. Even
some
of the major 'alternative' sites are not prone to delve into it. There has been a deluge of articles all over lately that are critical of 'conspiracy theories' but they rarely add weather modification into their mix of 'kooky' ideas.
We only have to look back to the 1996 military research paper
Weather as a Force Multiplier: Owning the Weather in 2025
to see that some take geo-engineering seriously. We also know that if the government/military is going to develop destructive technologies, they have to test them.
Nuclear weapons
are a classic example. The US has
a history
of testing things on their own citizens without their permission Do we really think this has ever ended? It's quite possible it has only gotten more intense. Why?...because they can.
Planet Earth has been besieged by many and diverse scientific experiments over the past one hundred years. The quantum leap in applied science and technology has "precipitated" a literal explosion of top secret and highly classified operations conducted in the atmosphere, throughout the planetary surface, as well as deep within the Earth's crust. However, none comes close to the degree of round-the-clock damage inflicted on the biosphere as the DARPA-sponsored program of geo-engineering.
My own observations of local chemtrails over the years are being backed up by others in various places. They occur within 1 to 3 days before a general rain. A couple of weeks ago, in the middle of the week when flight patterns out of Nashville are nearly identical, we had two days of nearly the same weather, temperature wise, and very little cloud coverage. The first day there were a few contrails and they dissipated quickly. The next day the skies were a checkerboard of trails with some big X's for good measure that slowly spread out. 2 days later it rained.
If push ever comes to shove, the official back story for chemtrails will be that they are to prevent global warming, to try and save the planet, it's for our own good and the program had to be kept secret just because we might not understand.
I don't know a whole lot about chemtrails or anything else for that matter. You can call me crazy but I think something's up...in the sky...and it ain't good.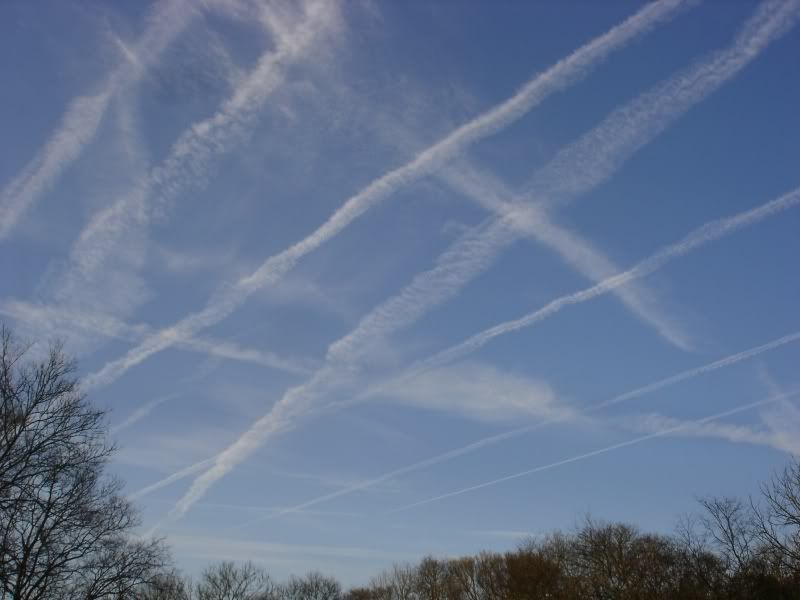 A photo from my front yard a few years back. It's typical and although sporadic, it is never ending.